Week number 3 of the Weekly Meal Plans for January!
Missed weeks one and two?  Catch up here!
Just want to reiterate what I mentioned in my Instagram stories: I've tried to include more portion sizes but please, please, pleeeaase know that this meal plan is not meant to be prescriptive, it's more a way to inspire you to get in the kitchen and give you some ideas for balanced meals.  Add and subtract to this plan as needed to meet YOUR individual needs!
Don't forget that if you make a meal from any of the Weekly Meal Plans, share it using #caitsplatemealplan so I can see or send me a message letting me know what you liked or didn't like!
BREAKFASTS:
2 breakfast tacos served with an orange
Fruit & nut overnight oatmeal – combine 1/3 cup yogurt, 1/3 cup oatmeal, 1 tablespoon chia seeds, 1 teaspoon cinnamon, 1/2 teaspoon vanilla and 2 tablespoons maple syrup and stir.  Refrigerate overnight then top with 1 diced apple and 1 tablespoon walnuts in the morning.
1.5 cups whole grain cereal with 2/3 cup milk and 1 cup grapes
1 serving 4-ingredient green smoothie topped with 1/3 cup nutty granola
LUNCHES
:
SNACKS:
Apple, sliced and topped with cinnamon sugar (if you don't have this, you can make it with 1 tablespoon sugar mixed with 2 teaspoons cinnamon)
1/4 cup hummus with 1 serving whole grain pita chips (see package for serving size recommendation)
6 oz. greek or skyr yogurt topped with sliced banana
1 tablespoon peanut butter & 2 teaspoons jelly on 1 slice of whole grain bread
1/2 cup grapes with 1/4 cup almonds
Note: Feel free to add additional fruits or veggie servings to these snacks if you feel you need a little more!  Read more about my snacking philosophy here.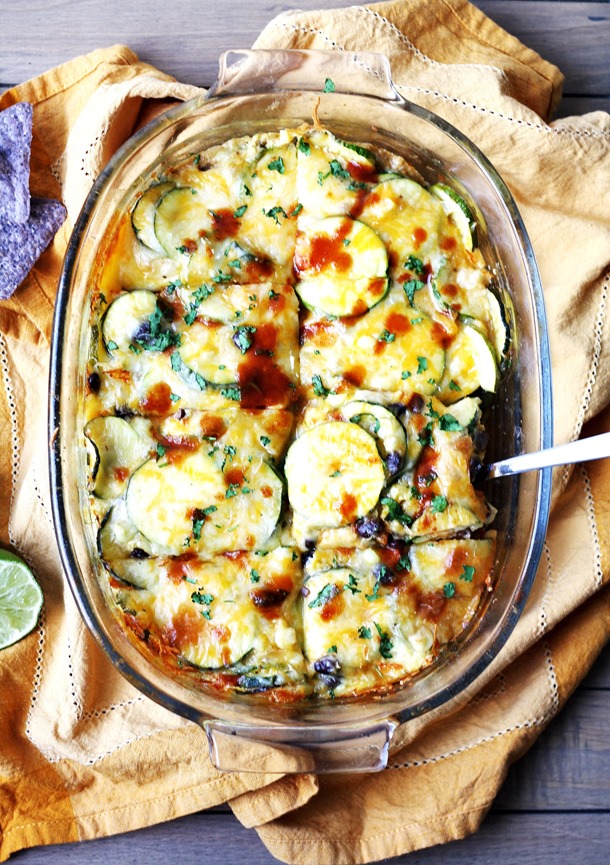 DINNERS:
Brown rice burrito bowl – 1/2 cup brown rice topped with 1/3 cup black beans, 1/4 cup corn, 1/4 cup tri-colored pepper slices peppers, 2-3 tablespoons salsa, 2 tablespoons plain greek yogurt, 1/4 cup Mexican blend cheese, 1/4 avocado, lettuce & hot sauce served with 1/3 cup blue corn chips
1 turkey or Veggie burger (such as  on a whole wheat with 1 slice of mozzarella cheese, lettuce, tomato, onion slices, ketchup and mustard (to taste) served with 1 serving baked sweet potato fries (homemade recipe here or I like Alexia brand)
1 cup whole wheat mac and cheese (I like Annie's) with 1 cup steamed broccoli
2 slices of Easy Veggie-Packed Mexican Casserole
1 serving of Parmesan & Panko Breaded Chicken Breast Dinner (sub meatless chicken tenders such as Gardein for a vegetarian option)
SHOPPING LIST (CLICK FOR PRINTABLE VERSION):
7