I've got the perfect Christmas morning breakfast for you right here.
Not only are these absolutely packed with gingerbread flavor, but they're made with whole grains so you can feel good about putting them on the table Christmas morning! They can also be made ahead of time and stored in the freezer so all you need to do that morning is pull them out and pop them in the toaster or oven to get them nice and crispy again!
I don't know about you guys but in our household growing up it was all about waking up and opening presents (our mom and dad's one rule was that they got to make their coffee first!). We (especially as kids) were not concerned with breakfast AT ALL and our parents (once they got their coffee) were more excited about getting to watch us open the gifts that they had stayed up all night wrapping and putting under the tree!
So needless to say, making a big, special breakfast wasn't a top priority in our household. Which is what makes these waffles so great! Regardless of whether your Christmas morning is similar to what ours was, this recipe is a great way to have a wonderful holiday breakfast without any stress on the actual day.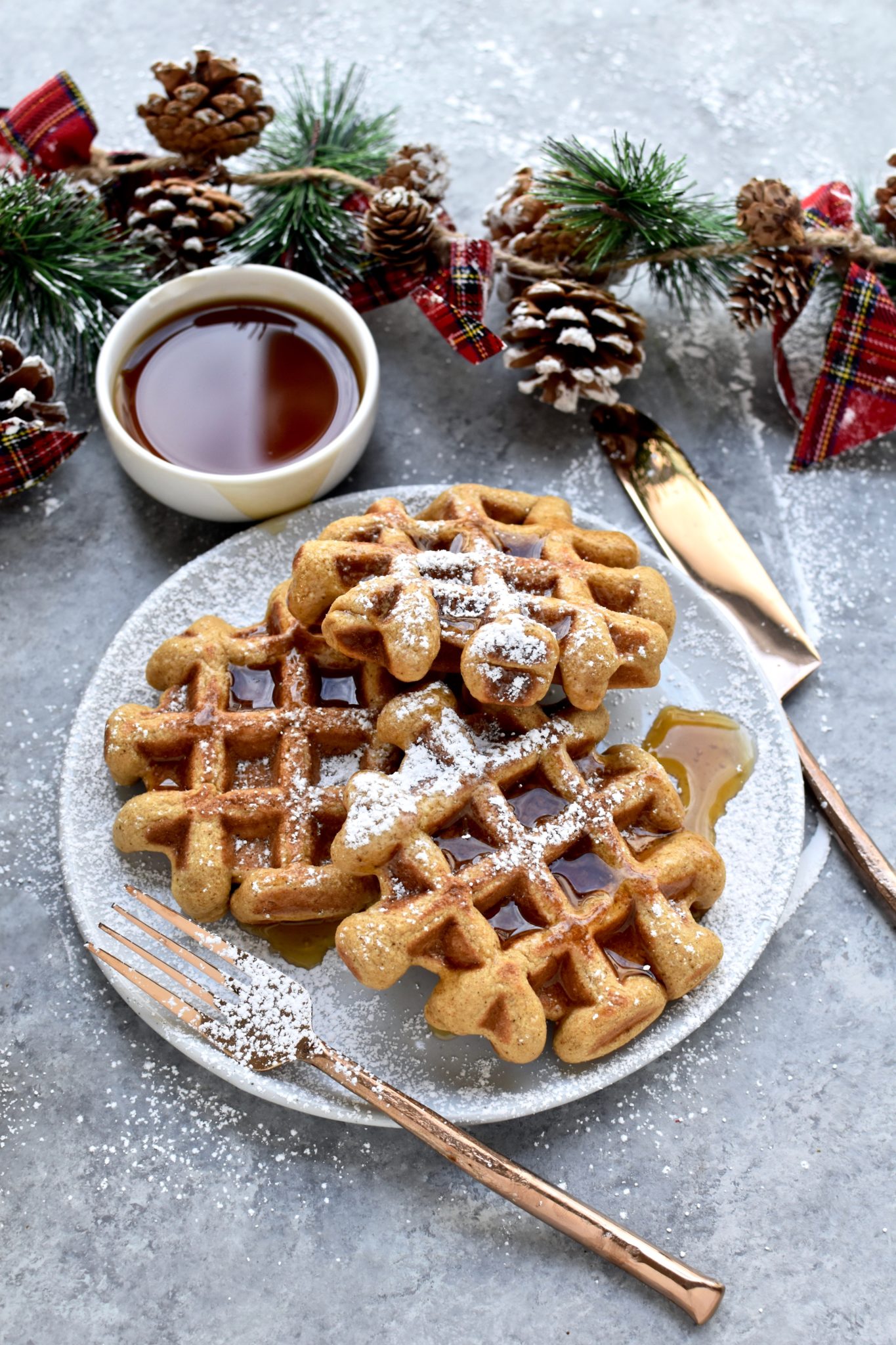 I can also attest to the fact that it's a great way to have a delicious breakfast throughout the week without much effort! My husband and I both commented on the fact that it feels like such a special treat to have homemade waffles on a weekday morning (especially with an infant!). It instantly makes a weekday morning feel a little more tolerable.
I like to serve mine in my usual way – a little nut butter, plain greek yogurt, sliced pear and a drizzle of maple syrup whereas he's straight powdered sugar sprinkle and syrup. Either way we're both getting fiber from the whole grain flour making it a breakfast that will keep us going all morning long!
whole grain gingerbread waffles
Ingredients
1 and 1/4 cups white whole wheat flour
1 tablespoon baking powder
1 tablespoon sugar
3/4 - 1 teaspoon ground ginger
1/4 teaspoon ground nutmeg
1/4 teaspoon ground cloves
1/4 teaspoon salt
1 beaten egg
1 cup milk
2 tablespoons canola oil
1 tablespoon molasses
Optional Toppings: powdered sugar, walnuts, pears, yogurt, maple syrup
Instructions
Preheat waffle iron
Add flour, baking powder, sugar, spices and salt to a bowl and stir
Combine egg, milk, molasses and oil in a measuring cup, whisking to combine
Add wet to dry ingredients, stirring just until flour is moistened
Add batter to preheated waffle iron and cook
Top with optional ingredients as desired
https://caitsplate.com/whole-grain-gingerbread-waffles/
9