rounding up 12 easy family dinner ideas for the week ahead!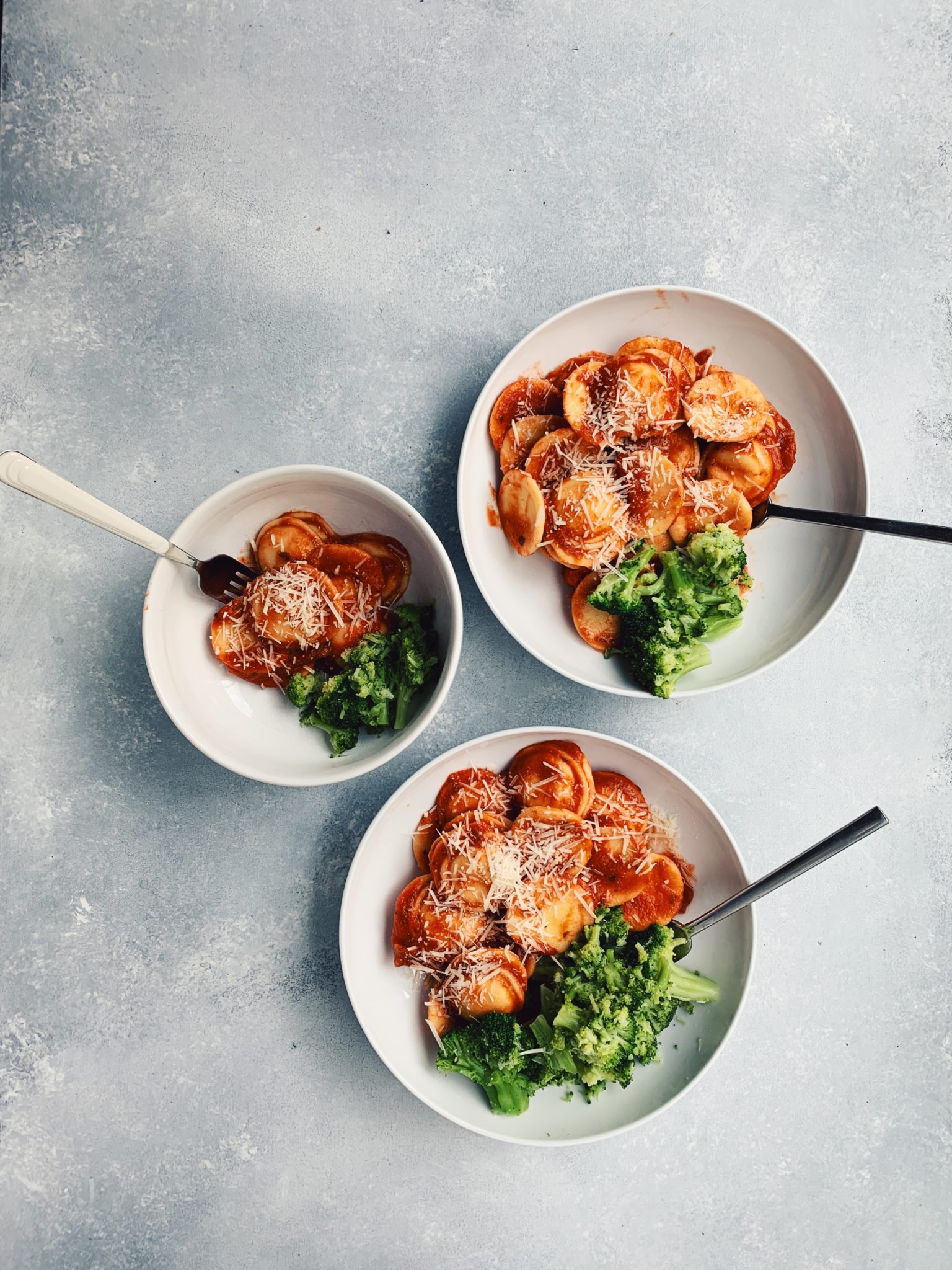 I've gotten a lot of requests for meals that can work for the whole family so I wanted to round up some of those that we've had success with in our household. All of them are done in less than 30 minutes or can even be prepped over the weekend and heated come dinner time on weeknights!
Owen is a pretty good eater but has been going through a particularly picky phase so the fact that he has eaten and enjoyed all of these is a good testament to their tastiness (and acceptability!). Feel free to swap in different protein sources, grains or veggies for those your family prefers.
DINNER #1: Chicken sausage with roasted potatoes and corn
We love Boar's Head and Aidell's chicken sausage. For the adults we serve the sausages on whole wheat buns like a hot dog. We'll often do a simple roast of potatoes (like the simple roasted sweet potatoes featured in this recipe) or buy these One Little Potato oven ready potatoes. For the corn, simply cut it off the cob for your little one as needed.
DINNER #2: Ravioli with steamed broccoli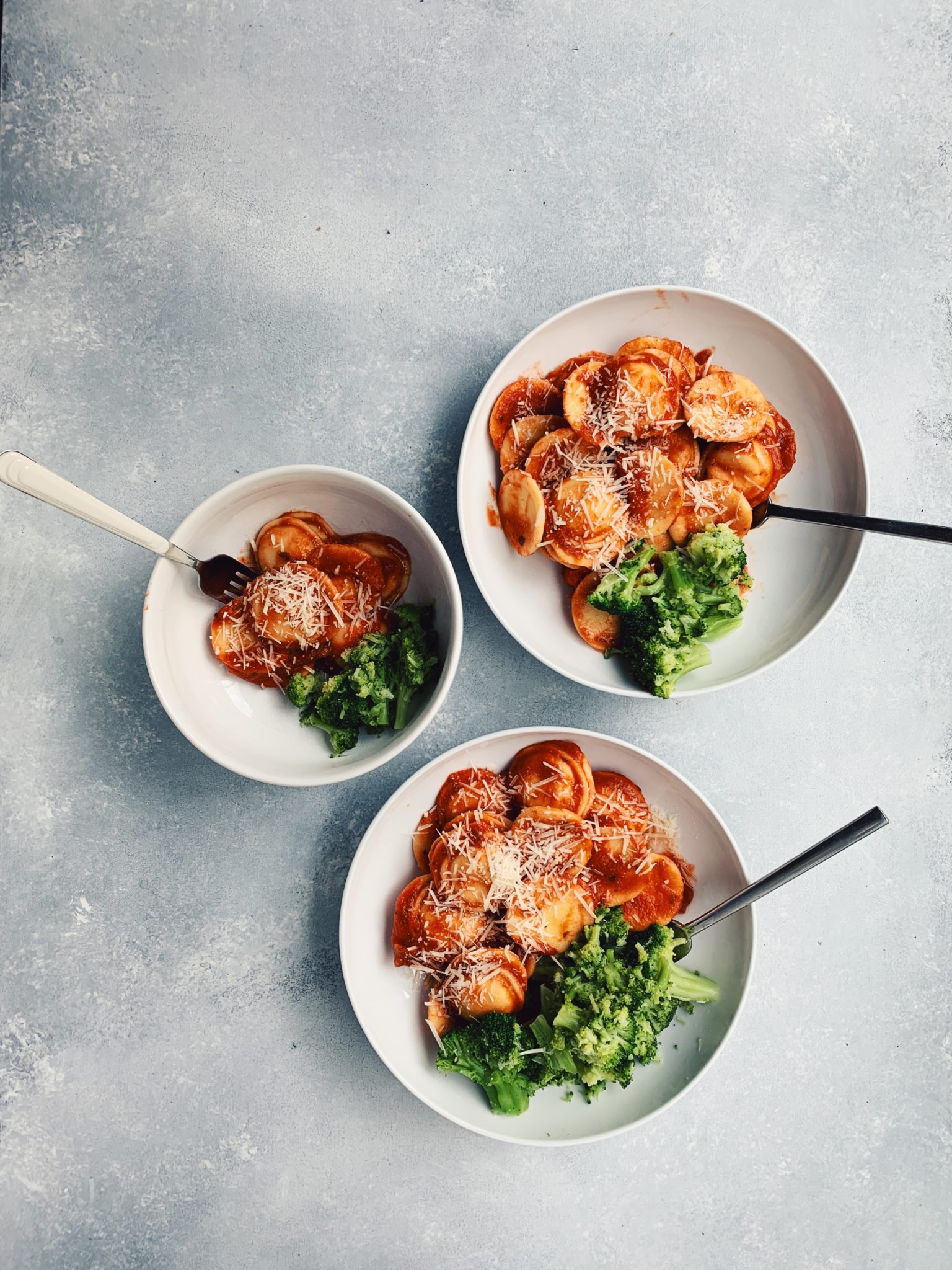 It doesn't get easier than this! We buy a bag of ravioli (any flavor you like! we like Buitoni brand), top with marinara sauce (we love Newman's Own) and pair with some steamed broccoli (or other preferred veggie).
DINNER #3: Veggie burgers with french fries
You can make your own burgers (like these chipotle lime corn & sweet potato black bean burgers!) or buy some (we love Amy's and Dr. Praeger's). We top ours with a little mustard, cheese, avocado, lettuce, tomato & onion and serve one whole wheat hamburger buns (for Owen we serve the avocado on the side). Like with the burgers, you can make your own roasted potatoes or buy some frozen pre-made french fries (we love Alexia and Trader Joe's brands).
DINNER #4: Quesadillas with avocado, plain yogurt & salsa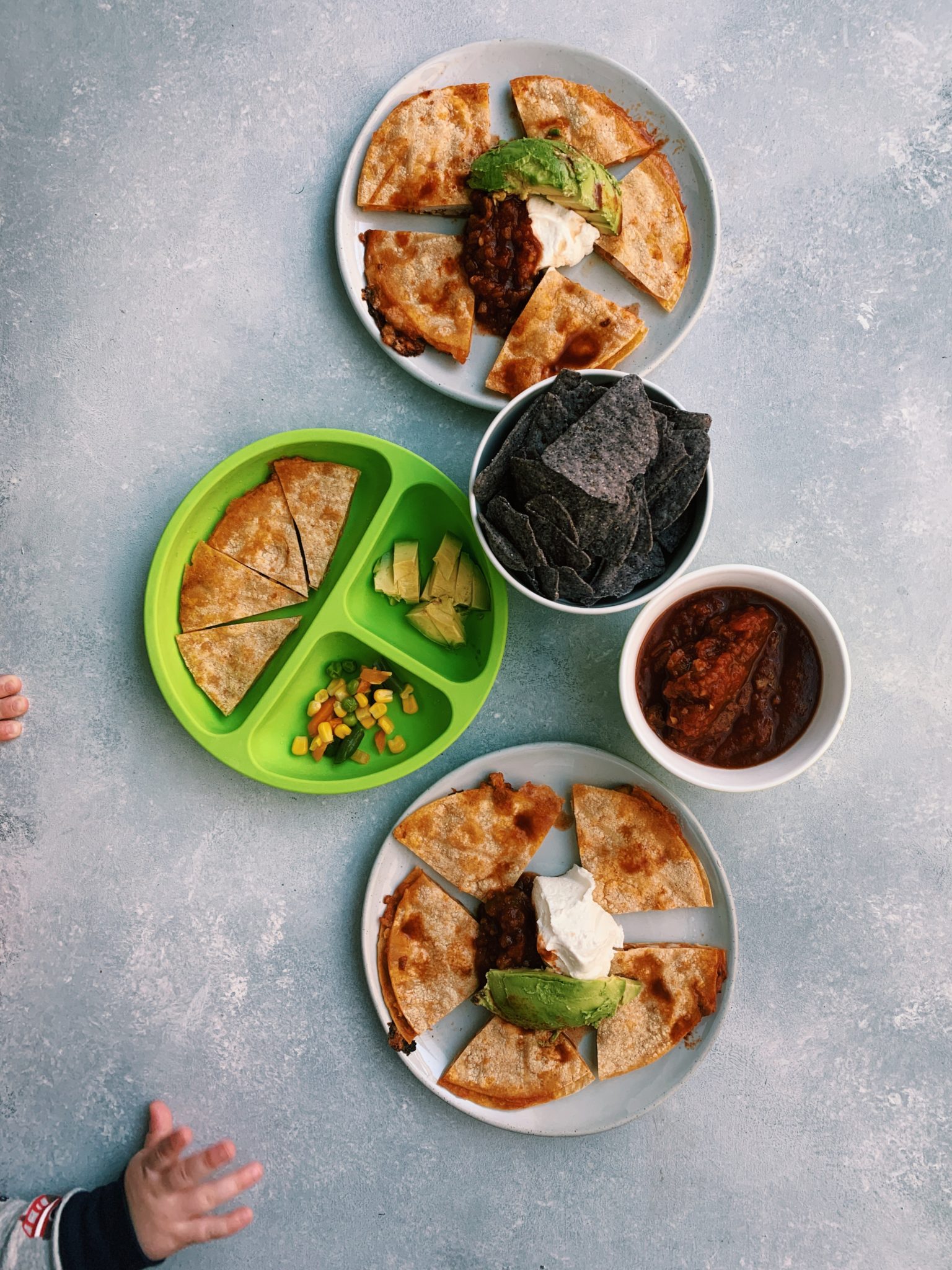 Clearly this one is a hit with Owen as he's already grabbing at it! We've done bean and cheese, veggie and just plain cheese variety of quesadillas and they've all been hits! These whole wheat black bean, corn and sweet potato quesadillas are a favorite of mine and Owen's. For the adults, we add hot sauce and a couple of blue corn chips.
DINNER #5: Broccoli spinach pesto tortellini bake
Get the recipe for the broccoli spinach pesto tortellini bake here! You can also just boil up the spinach tortellini (we love Trader Joe's and Buitoni) and broccoli, top with pesto & a sprinkle of cheese if you want to skip the extra steps of making the bake. We served Owen's with a couple of veggie-loaded chicken meatballs for additional protein and some sweet potatoes.
Dinner #6: Spinach & feta turkey meatballs with whole wheat orzo and veggies
Get the meatball recipe here (or buy your favorite pre-made turkey meatballs!). For the adults we served with tzatziki sauce, freshly chopped red onion, cucumber and tomato. Owen had steamed tri-colored cauliflower with his and we let him dip his meatballs in the tzatziki as he wanted.
DINNER #7: Pizza and veggies
Friday night is our pizza night! Pick up some fresh whole wheat dough, sauce and mozzarella at the store (or your favorite takeout!) and pair with some steamed veggies for the kids and side salads for the adults. If I'm making it from scratch, I like to put the broccoli on top of the sauce and under the cheese for Owen because he accepts it much better that way. Dairy-free? Try this roasted vegetable pizza!
Dinner #8: Chicken tenders with brussel sprouts, potatoes & mac & cheese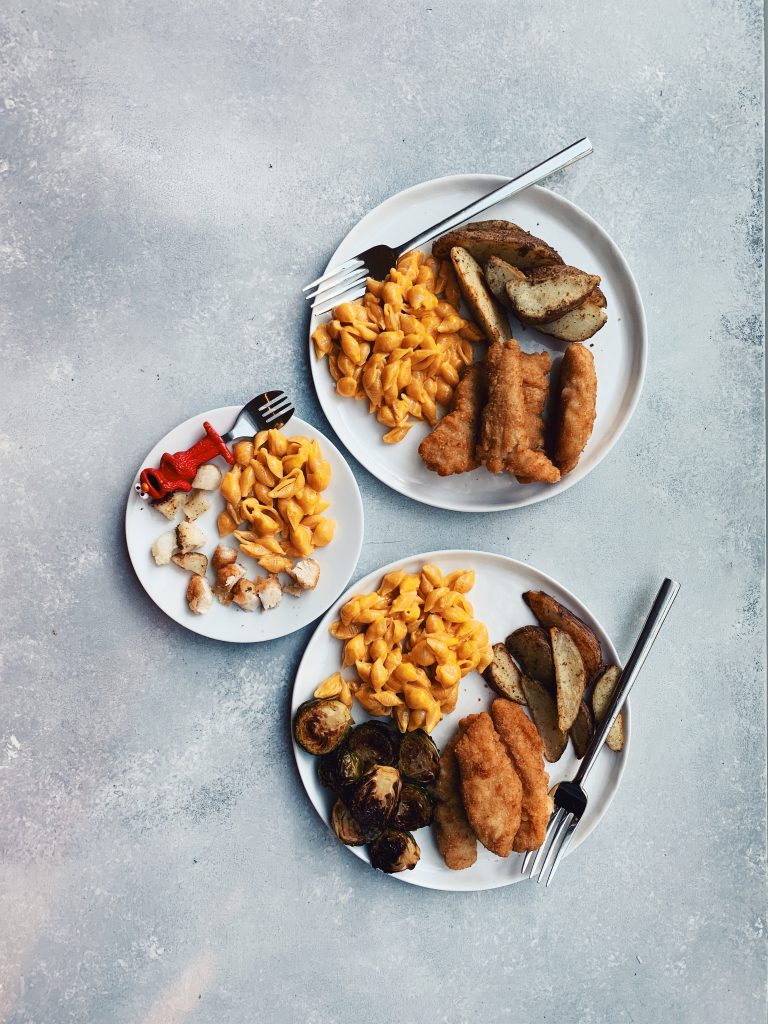 We're obsessed with a place called "Yafo Kitchen" here in Charlotte. This is our go-to meal there so I wanted to recreate it at home. I happened to have chicken tenders on hand (we love Applegate Farms or you can make your own like these honey mustard pretzel encrusted chicken tenders!) but we've done this with a rotisserie chicken as well. You can also use any veggie everyone will eat (green beans, broccoli, cauliflower, etc.).
Dinner #9: Meatballs with Sauce, Pasta & Salad
This is a quick and easy dinner that comes together in about 15 minutes. You can use store-bought meatballs (we love Aidell's brand) or you can make your own (these veggie-loaded chicken meatballs are a favorite). Serve with a side salad or a steamed veggie and a little bread with butter! Not a meat eater? Try these baked lentil "meatballs" – they were also a hit, even with my meat-eater husband!
Dinner #10: Pasta with pesto, white beans, veggies & bread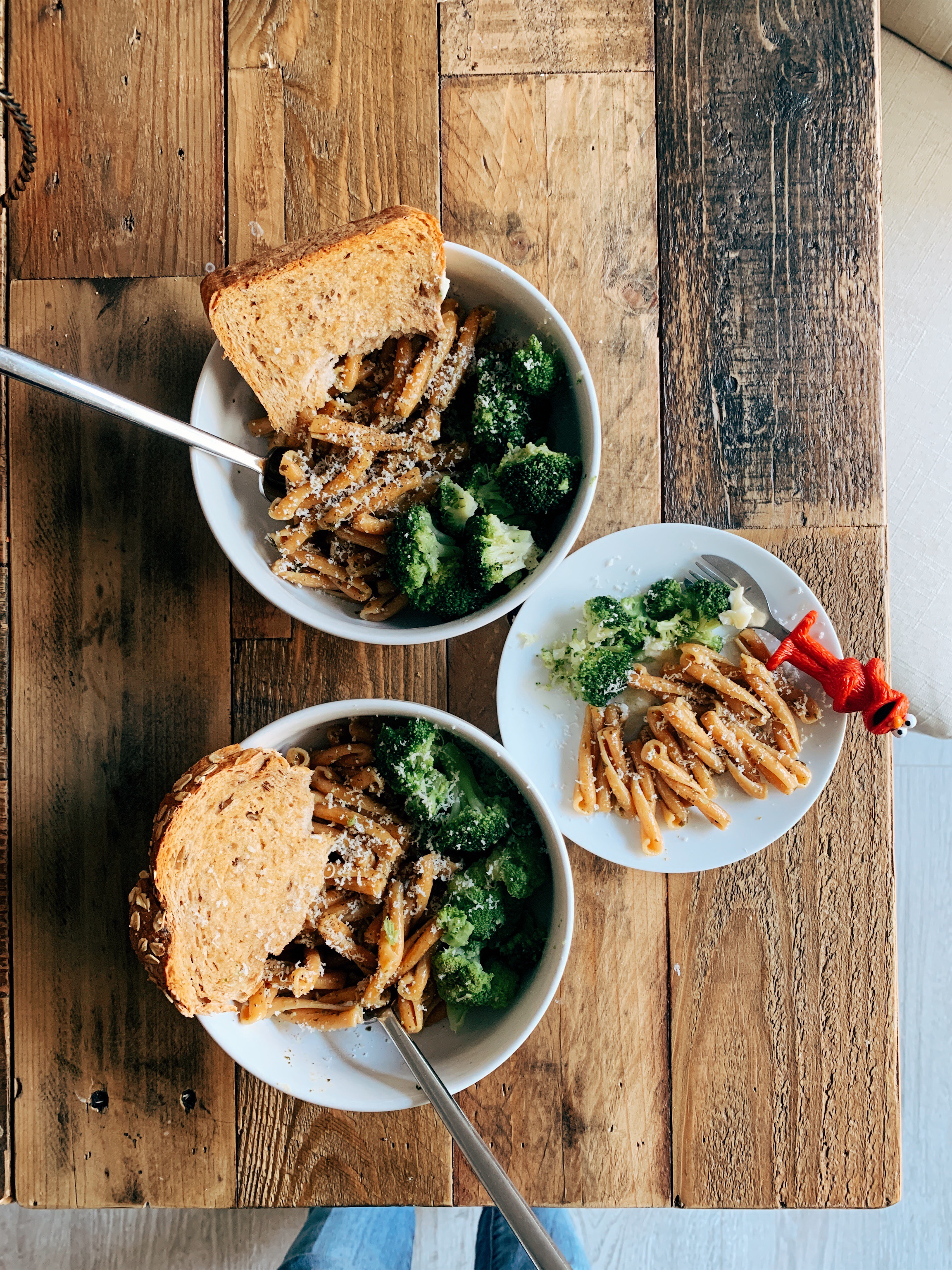 Another super simple dinner that takes just minutes to pull together. Use whatever type of pasta your family prefers (chickpea, whole grain, enriched, etc.), toss in the veggies everyone likes, throw in some white beans for protein and serve up with some bread! So easy and delicious.
Dinner #11: Chicken sausage with butternut squash risotto, green beans & bread
Not into chicken sausage? You can use rotisserie chicken, baked chicken breasts or thighs or even tofu if you're not a meat eater! We love the Alexia cauliflower and butternut squash risotto in the frozen section. We keep a bag on hand to use for easy dinners. Then we just need to boil a veggie and dinner is served!
Dinner #12: Gnocchi in sauce with salad & bread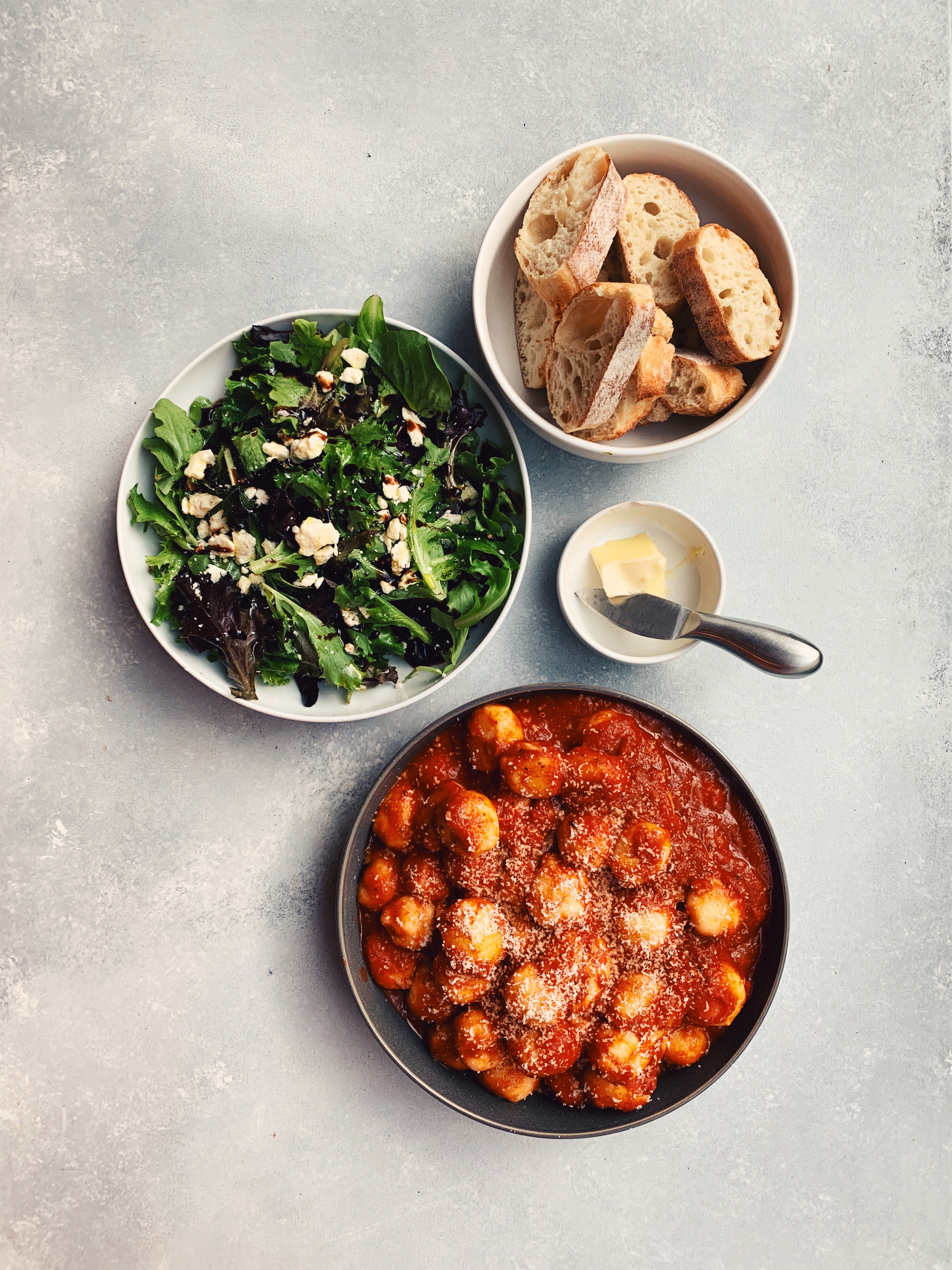 If your little one doesn't eat salad, have no fear, you can swap in a steamed or roasted veggie instead! You might also like this weeknight baked gnocchi, this caprese-style skillet gnocchi or this sweet potato gnocchi with roasted brussel sprouts, dried cranberries, walnuts & parmesan which have veggie tossed right in!
48