nutty farro is combined with spinach basil pesto, summer vegetables and crunchy toasted walnuts for a flavorful dish that comes together in 30 minutes!
This post is sponsored by Bob's Red Mill.  All opinions contained within are my own.  As always, thank you for allowing me to partner with companies to create yummy, wholesome recipes!
You guys already know my love affair with farro.  To me, it's everything I want a grain to be: hearty and slightly chewy with a rich nutty flavor.  It works well as a replacement for rice (think burrito bowl) but can also stand up well on its own as the star of the dish, which it most certainly is here.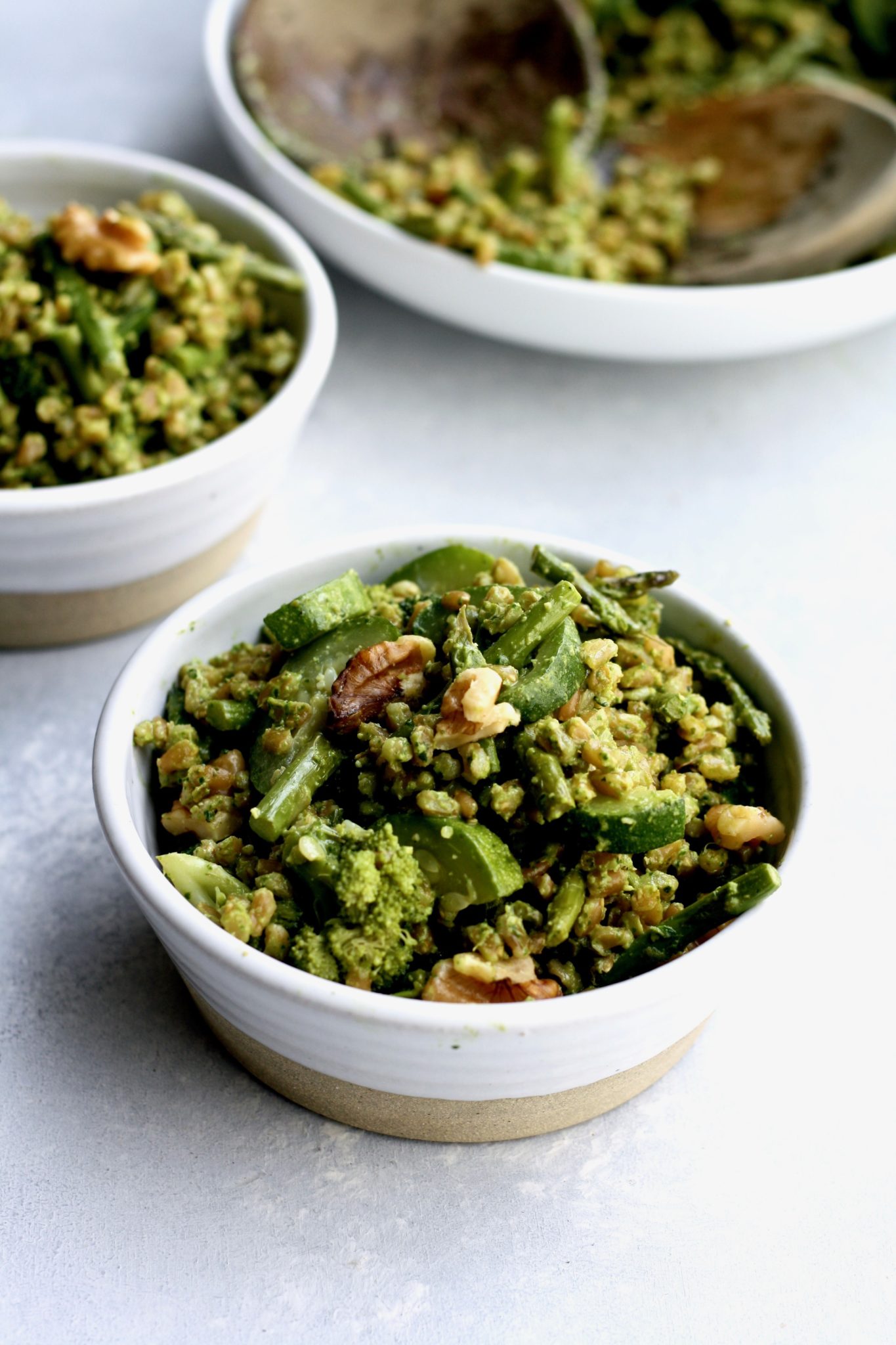 Bob's Red Mill organic farro is a good source of iron and easy to digest (meaning your body can readily absorb its many nutrients!).  Bob's Red Mill organic farro is very lightly scratched, as is traditional, to allow for a faster cooking time and to encourage the release of its starches during cooking, but it maintains all of the nutritional benefits of farro.
There's nothing better than a dish that not only tastes amazing, but is also providing tons of nutrition, am I right?  I promise you this dish delivers on both fronts.  Loaded with heart-healthy fat, vegetables and whole grains, it's so hearty that even the biggest meat eaters won't notice it's meatless!  Of course you can always add chicken or salmon or even chickpeas if you want.  Any of those would pair really well with this dish.  But if you don't want to, that's another beautiful thing about farro, it's got a good amount of protein already packed in it!
The toasted walnuts in the dish also provide a little protein as well as some heart-healthy fat.  Their crunch pairs perfectly with the chewy farro and tender sautéed veggies.  I like to finish the whole dish off with a sprinkle of parmesan cheese, but if you want to keep it completely vegan, you can also choose to forgo that or use a little nutritional yeast!
farro with spinach basil pesto, toasted walnuts and summer vegetables
Ingredients
For the Pesto

1/3 cup fresh basil leaves
2-3 cloves garlic
2 large handfuls of spinach
2-3 tablespoons whole walnuts
Salt and pepper to taste
1/4 cup Bob's Red Mill Nutritional Yeast - you can also use parmesan cheese
Olive oil

For the Farro

1 cup Bob's Red Mill organic farro, rinsed
3 cups water or low sodium vegetable broth
1 medium zucchini, washed, halved and sliced
1 bunch thin asparagus, stems removed and remaining chopped into 2 inch pieces
1 cup broccoli florets, roughly chopped
1/3 cup unsalted walnuts
Olive oil
Instructions
For the Pesto

Combine basil leaves through nutritional yeast in a food processor and turn on. Slowly stream in olive oil until you've reached your desired consistency. Set aside.

For the Farro

Combine farro and liquid of choice in a saucepan and place over high heat. Bring to a boil then lower heat and continue to simmer for about 30 minutes.
While the farro cooks, place a non-stick pan over medium heat. Hover a hand about 10 inches above the pan and once heat hits your hand, add a hefty drizzle of olive oil. Place zucchini, asparagus and broccoli into the pan and sauté until just tender but still crisp.
Preheat the oven 350°F and spread walnuts out in a single layer on a baking sheet. Roast for 5 minutes tossing the nuts around occasionally to ensure even cooking (nuts are done when they look slightly darker and smell toasted). Remove from the oven and set aside.
Once farro finished cooking, drain any remaining liquid from the pan then combine with 1/3 cup pesto, stirring well to ensure it's all coated (add more or less pesto as desired). Add vegetables to the pesto farro mixture and again toss well to combine. Finally add walnuts and toss once more before serving.
Notes
Dish holds well in an airtight container for up to 5 days
https://caitsplate.com/farro-with-spinach-basil-pesto-toasted-walnuts-and-summer-vegetables/
10