providing answers to your questions, concerns and the common misconceptions around nutrition and intuitive eating.
I've gotten countless requests about how to rectify the "all foods fit" motto of eating intuitively with wanting to eat a nutrient-dense diet. So today's post is all about that.
While there's no strict order to the Intuitive Eating approach, it's also no coincidence that the principle that tackles "Gentle Nutrition" is last. In order to get to a point where you can incorporate gentle nutrition principles, it's crucial that you first repair your relationship with food.
The black & white, restrictive patterns of diet culture embed themselves deep in our psyche and have lasting effects. Until you've healed from those harmful thoughts, patterns & behaviors (often promoted as 'ways to get healthy'), you won't be able to truly implement nutritional guidelines in an intuitive way.

Without first making peace with food, you're susceptible to implementing any nutritional suggestions in a strict or rigid way (which ultimately, is not eating intuitively).

As you work through the other 9 principles of the Intuitive Eating approach, you'll see that this is exactly what they're set up to do – repair your relationship with mind, body and food. Once that healing has taken place, often a more nutrient-dense eating pattern unfolds somewhat effortlessly.

As you begin to listen more to your body than external messages, you'll start to notice that it's NOT impossible to crave nutrient-dense foods. Your body wants those foods that help it not only function at its best, but make it feel good.

When you're stuck in the strict rigidity of food rules and dieting, it can feel impossible that you will ever crave say, vegetables. But this often stems from the fact that you've spent years forcing yourself to eat them whether you wanted them or not. As you heal your relationship with food and learn to trust in your internal signals, you will find your body not only asks for foods that sustain, satisfy and energize you (in the amounts that are right for you, which will vary day to day and meal to meal), but you'll also be able to take pleasure in eating them again. This will not happen overnight however, or without that healing first taking place.

Think of intuitive eating as a journey of learning & self-discovery, rather than one of pass/fail. It's a time for you to experiment with different foods and combinations to figure out what makes your body feel the best. When you stop thinking about what you SHOULD eat and just focus on eating in a way that's satisfying and feels good, you're much less likely to choose low nutrient foods in large quantities (because as I'm sure you already know, they don't make us feel great when consumed that way!).
Making peace with mind, body & food will also enable you to implement mindful choices in a flexible way (i.e. "what will most satisfy me right now?" or "what is going to fill me up and keep me energized to get through this meeting?"). When you remove restriction, guilt or shame associated with food, you're able to think about your choices from a satisfaction perspective. This permission is often referred to as the "permission paradox." While many fear this permission means they'll never stop eating, it actually has the opposite effect. It frees you up to choose the foods that will be most pleasurable to eat, which in turn increases satisfaction. When satisfaction is high, when we're truly satisfied with what we're eating, it often takes less food to fill us up.
Does becoming an intuitive eater mean you'll NEVER want lower nutrient foods? Absolutely not. Does it mean you should or will never eat those foods? No. It simply means that when presented with a choice, you can effectively and objectively evaluate it based on your NEEDS, not on what you feel you SHOULD have.
Think about these two breakfast options: a sprinkle doughnut and a bowl of oatmeal. You enjoy the taste of both options equally, so how do you choose which to have? Maybe what you really want is a doughnut and so you eat it. Or maybe you know you have a long morning ahead and while you like the taste of the doughnut just as much as the oatmeal, you choose the oatmeal simply because you know it happens to keep you fuller longer than doughnuts do.
In the second scenario, you are not choosing the oatmeal because it's the "right" choice or it would make you feel less guilt to eat. You're not going to spray the doughnut with windex, pour water on it, or throw it out. You're simply going to set it aside because while you like both foods equally, the oatmeal option makes the most sense for your given day. It may be that doughnuts keep you just as satisfied and you choose that option! Or perhaps you crumble some doughnut on top of the oatmeal. The point here is not the choice, but how you went about the choice. You evaluated the options based on your needs, preferences and what made sense for you and your day. NOT on shoulds, can'ts and don'ts.
When making nutrient-dense food choices feels good mentally and physically, it becomes much easier to honor your health with those choices. When you feel forced into the choice, deprived and restricted, the experience of eating nutrient-dense foods is so pleasureless, that you're much less likely to want them, let alone continue eating them long-term.
If you want to read more about the Gentle Nutrition principle of the Intuitive Eating approach, you can do so here.
Any other questions on this topic? Feel free to leave them in the comment section or shoot me a DM on Instagram.
You Might Also Like:
Non-Restrictive Nutrition Guide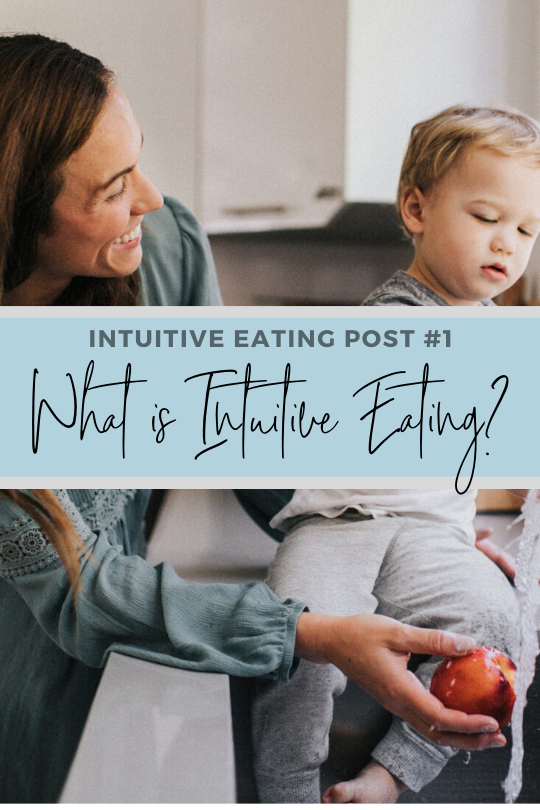 Please Note: Statements in this post are meant for general use only and are not intended to diagnose, cure, treat or prevent any disease. Readers are advised to consult with their healthcare providers prior to making any changes to their healthcare management. The information contained in this post is intended to serve as an informational aid and should be used in conjunction with advice from your healthcare professional. It is a supplement, not a substitute, to the knowledge, skill and expertise of healthcare professionals involved in patient care.
5