sharing my go-to gear for running with a toddler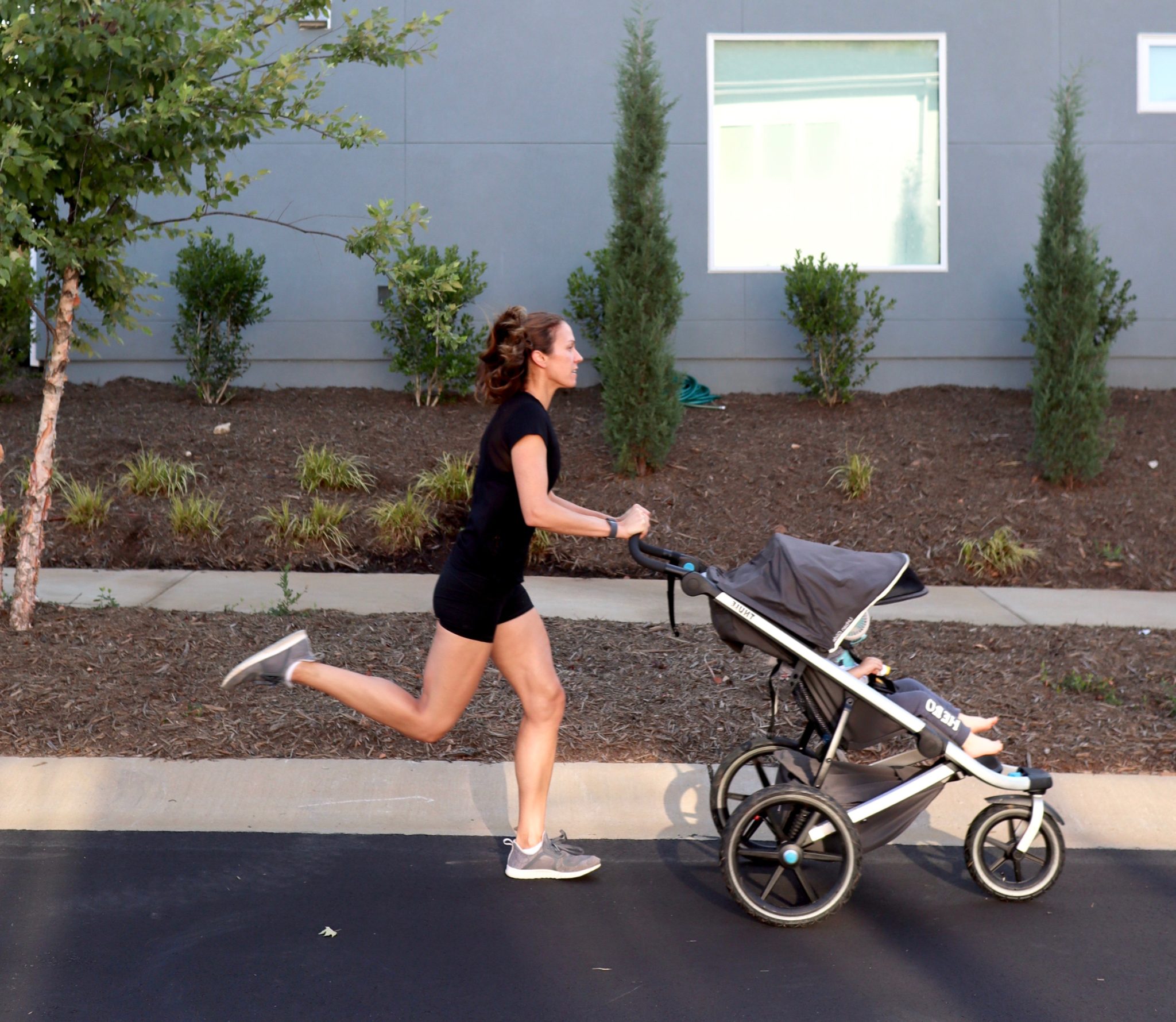 One of the most-asked questions by you active mamas out there is what my go-to items for running with a toddler are. I've rounded up a short little guide of my go-to essentials (aka – the things that allow me to get a short or mid-distance run in without Owen totally losing it!)
We use this stroller A LOT. For every walk (which we do daily) and run. We've gone as long as 6 or 7 miles in it and as short as 1. We've run on pavement, backroads and trails with it and it has held up well. We've used it since Owen was about 7 months old. It folds down easily and gets pretty small when folded. The bottom pouch is spacious enough to hold a blanket for Owen in the colder months, Ollie's travel water bowl and bottle, snacks, layers for my runs, etc.
My sister-in-law has a B.O.B. which we use when we're visiting. I like it just fine, but wouldn't say it's any better than the Thule and the Thule is easier to fold up in my opinion.
On another note, she just sent me this which I suppose is another option! It's a bit on the expensive side and I'm not sure how much I would enjoy pulling vs. pushing, but apparently it's pretty great!
We've had this fan for over a year and it still works really well. We use it for pretty much every walk/run from late Spring to early Fall. The battery life is long and there's no way Owen can get his fingers in it! It also clips on really well so I don't have to worry about it slipping off while running.
Having a tablet on the longer runs is super helpful (we have a Samsung Galaxy Tab A 7″ but this stand can adjust to hold my iPad mini and my iPhone too). We can play music or videos and that usually distracts Owen enough that we can get through it.
It's been especially helpful as he's become more active. He used to happily sit in the stroller no matter how much we went, but now he wants to get out and walk/run with us so this makes it much easier to get through a run without stops for him to get out! We use this mount on the edge of the stroller to mount the tablet when we're doing longer runs and it holds up really well! For shorter runs, I can usually get away with just playing music from my phone.
Especially in the heat I always make sure Owen has a bottle of cold water with him when we go on runs. We take these everywhere – I love that they can close making them truly leak proof!
We really don't do a lot of snacking during runs (just cause we're moving and it makes me nervous!) But on long runs we'll pack these. These cups come in handy pretty much anytime we're on the go, but it's nice to use on longer runs because we can throw them in the bottom of the stroller (pulling them out only if necessary) and they won't spill.
And that's about it! Not much, but I consider these things really essential to survive runs with a busy toddler!
If you have other recs, leave them in the comments! I'd love to know if I'm missing something that could make my running life easier!
11