I've gotten a bunch of requests to showcase more of Owen's meals as well as to provide a general rundown of how we transitioned to solids and what he's eating now. So here we go – from birth to present day!
0 – 6 MONTHS: EXCLUSIVE BREASTFEEDING:
I exclusively breastfed Owen from birth to 6 months.
Around 6 months I stopped producing enough milk to match Owen's needs, so we started supplementing with formula.
It was SUPER hard for me to let go of breastfeeding, especially since I had hoped to do it until at least 1 year. I felt guilty, sad, like I was letting him down and failing as a mom.
But after just a week of supplementing, we noticed Owen was sleeping through the night, screaming a lot less during the day and seemed all around happier.
I also noticed that I myself was a better mom because of it too. Instead of being frustrated, stressed and anxious 3-4 times a day at my low milk supply and worrying about how little I was getting each time I pumped, I was able to just enjoy feeing time with him, knowing that if he needed more I could supplement.
Our journey ended completely around 8 months but we were still perfectly able to bond during bottle feeds and we were both happier all around. PLUS it gave my husband and Owen a chance to bond during feeding time as well.
It was then and there that I STOPPED feeling guilty or like a failure for not being able to breastfeed and was just happy to see that he was getting what his little belly needed to feel satisfied.
I mention this because I think this is a common thing among many moms. I have tons of mom friends who have gone through the same thing and have felt the same feelings of failure. It's important to remember that what matters is your baby is getting the fuel they need to grow & develop normally. You are NOT a failure if you can't (or simply don't want) to breastfeed for a year+. You are still providing for them!
In terms of timing, we fed on demand.
5.5 – 8 MONTHS: PUREES & SOFT FOODS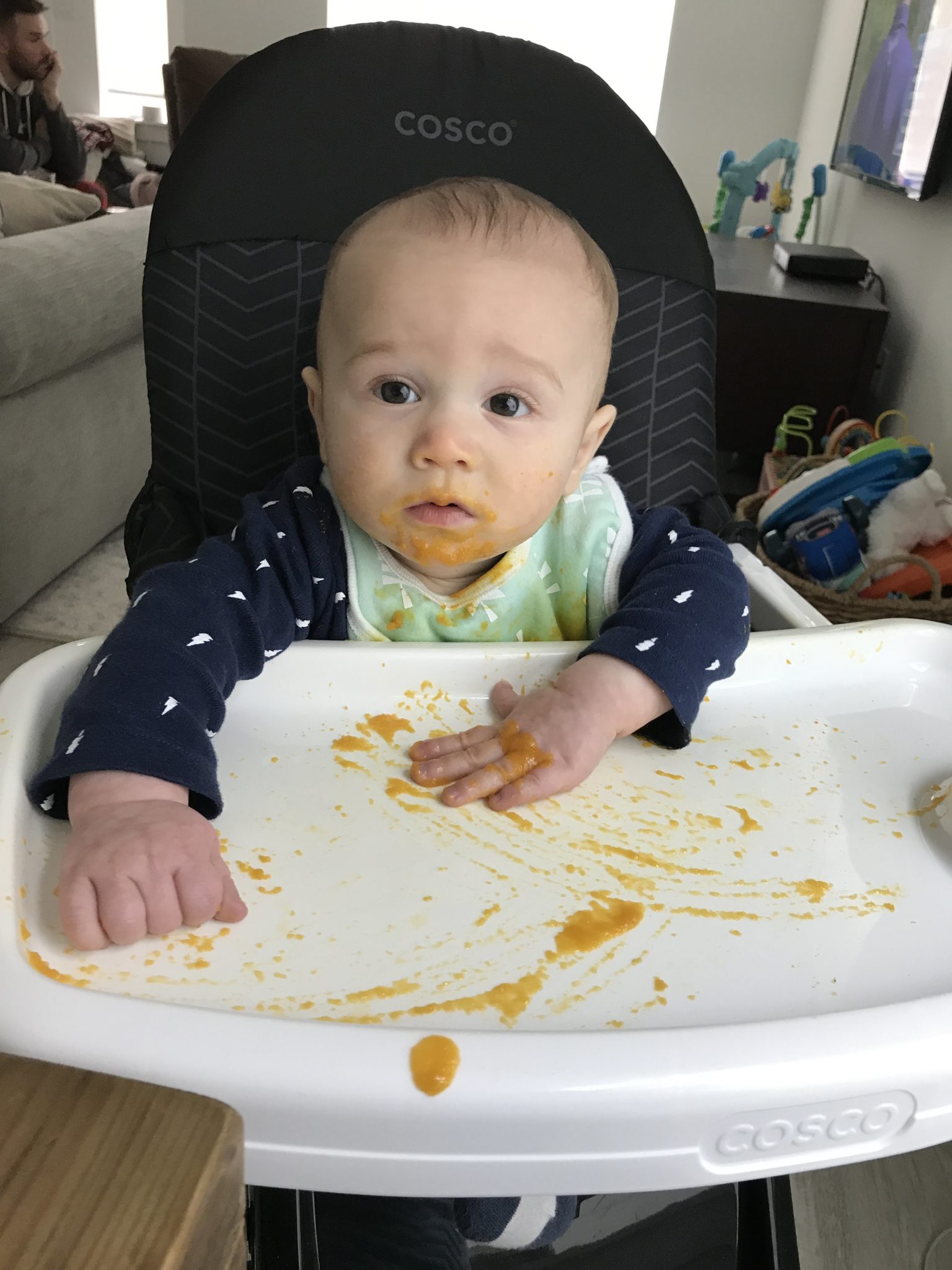 I wrote a post when Owen was around 6 months old talking through how we transitioned to solids, what we were feeding him and why as well as what the general feeding schedule was. You can read that here.
As you'll read in the post that I linked to above, we started just before 6 months with purees and rice cereal. We did that for about 2 weeks (with increasing the consistency by adding a bit more rice cereal every 3 days or so as he mastered each thicker one). When he seemed to have the hang of that, I then moved to soft foods (with some purees still in the mix here and there but we ditched the rice cereal).
Soft foods Owen was eating by 6.5/7 months:
plain whole milk greek yogurt
cooked oatmeal with fruit and nut butter gently pulsed in a food processor
soft scrambled eggs
avocado
baked sweet potato or butternut squash
soft cooked vegetables
I cut these foods into bite-sized pieces (small enough that if he didn't gum them, he'd be able to swallow whole). We did that for about another month.
By 8 months he was eating a large variety of foods (still cut into bite-sized pieces).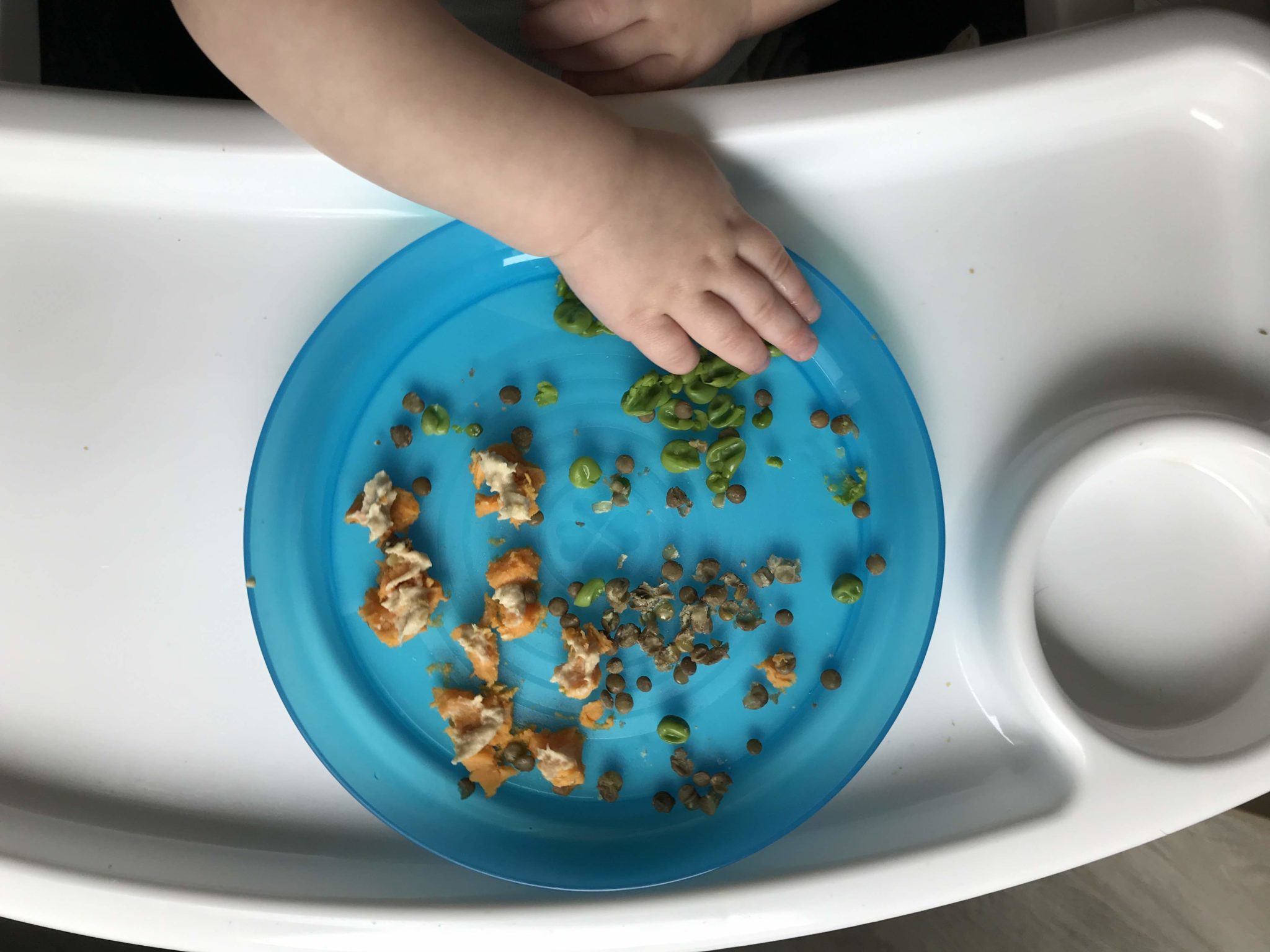 Foods Owen was eating (in addition to the above) by 8 months include:
tender pieces of chicken
lentils
salmon and white fish
bread with cream cheese or hummus
grilled cheese
berries and melons cut into bite-sized pieces
homemade muffins
Things we stayed away from:
honey (due to risk of botulism; though that's very low) – introduced after 1 year
crackers – introduced after 1 year
raw/very hard fruit or vegetables – still selective in what we offer
popcorn – still stay away from this
nuts/seeds – offer nut and seed butters instead
Bottles: I breastfed/formula fed on demand until Owen was sleeping through the night. Once Owen that happened (which was not until about 6 or 7 months for us – I think because he was hungry due to my low supply!) he got 4 – 5 bottles during the day filled with 6 – 8 oz. formula.
9 MONTHS – PRESENT: MOST ANYTHING GOES!
At Owen's 9 month checkup, our pediatrician told us that she felt comfortable letting Owen have pretty much anything (except for those listed above) so that's what we did.
We gave him a lot of the same foods as above, but also let him take bites of other things he seemed interested in. I let him try my food as often as he liked and we tried to work in a variety of different proteins, vegetables, grains and healthy fats to expose him to as much as possible.
I would say around 11 months I stopped cutting everything into such small bites (despite only having 4 teeth up until about a month ago!) because he proved he was able to gum things well. I will still cut things into bites (especially if they're hot and need to cool) but he started being able to responsibly eat a whole banana or strawberry or even gnaw on a full bagel bagel around 11 months.
He's a pretty good eater and hasn't met much he doesn't like!
Bottles: Between 9 and 10 months Owen was still getting 4 – 5 bottles during the day filled with 6 – 8 oz. formula.
At 10 months we started to make the transition to a sippy cup during the day (he still got the bottle morning and night). The sippy cup transition didn't go great for us, haha. It took us about a month to adjust (and ultimately the way we made it happen was just by making it the only option).
By 11 months we were exclusively using the sippy cup (no more bottles!) and we started scaling back on the formula. Our pediatrician wanted the goal to be no more than 24 ounces from formula a day by one year (especially since Owen was eating solids so well). So beginning around 11 months, he got a morning cup of formula (around 8 ounces), an afternoon sippy cup of formula (around 6 ounces) and an evening cup of formula (around 8 ounces).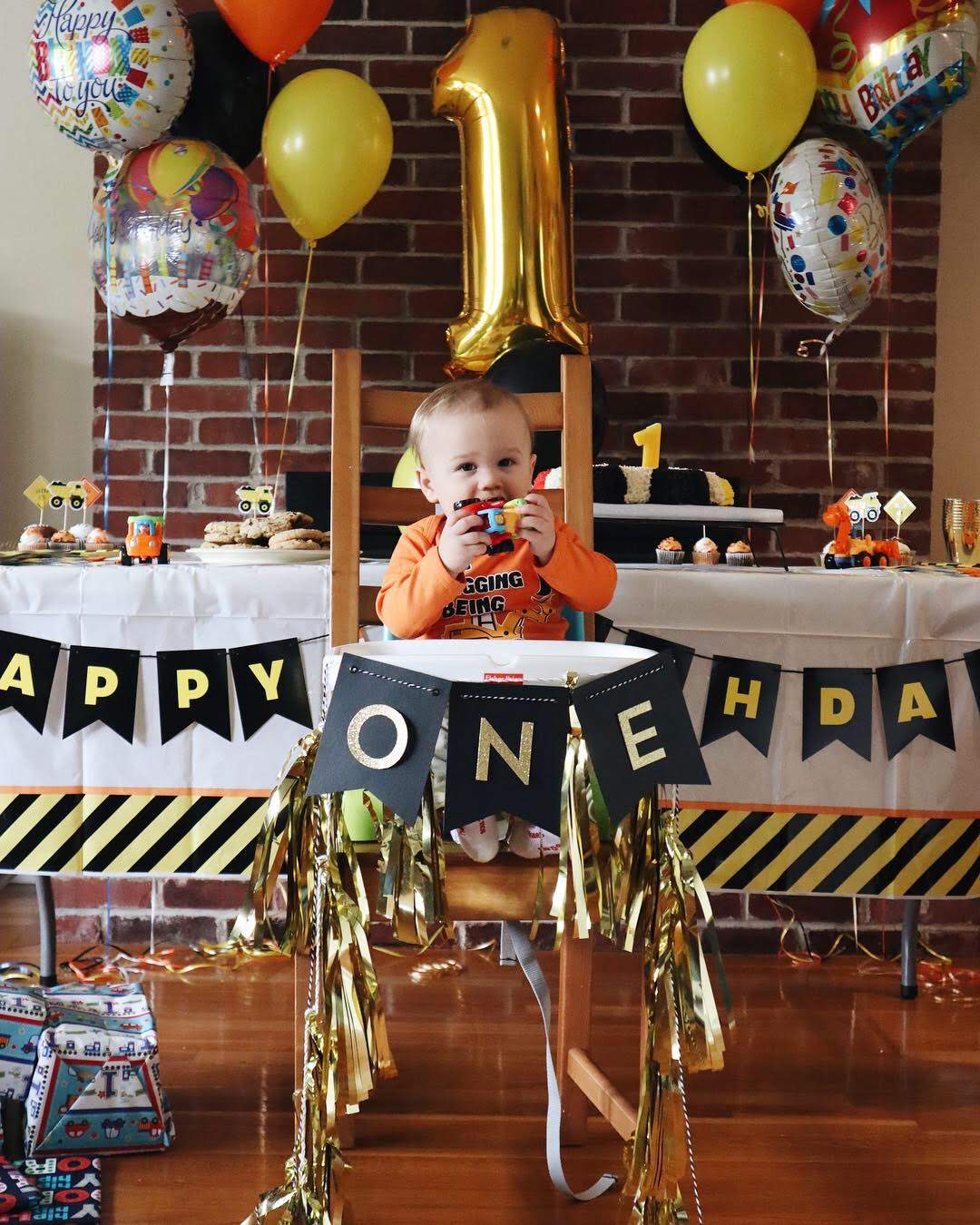 When Owen turned 1 year, we switched him to whole milk (hallelujah! we were so glad to stop buying formula!) and reduced the amount he was getting. He now gets one 6 ounce cup of milk in the morning and one 6 ounce cup in the evening. If he doesn't have a yogurt or other dairy based snack, then he'll also get about 3 ounces around 3pm.
Happy to answer any questions you may still have, but I hope this helps a bit!
17