a work week's worth of easy outfit ideas plus two outfits for the weekend!
MONDAY: linen blazer, lightweight tee, jeans or jean shorts & sneakers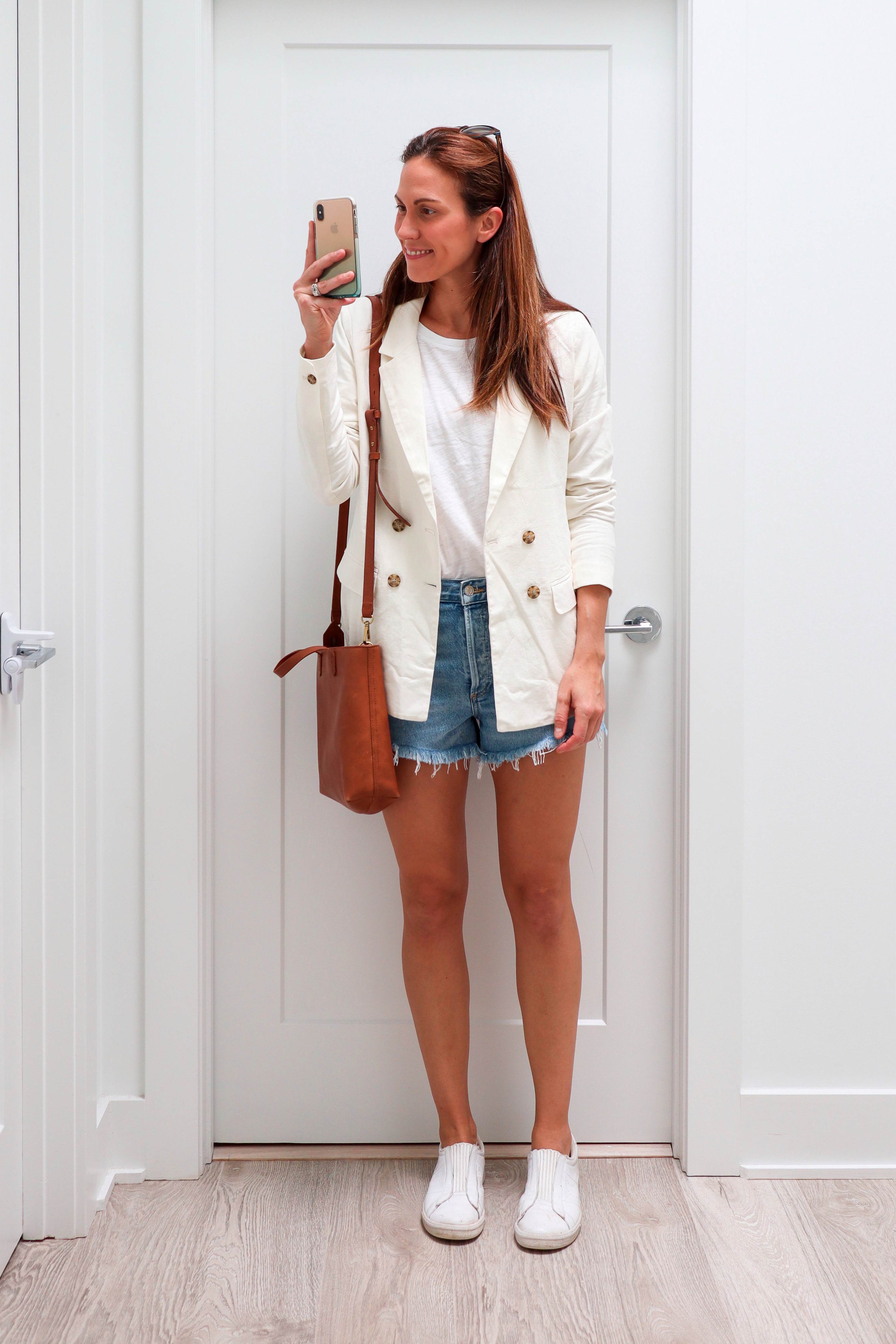 tee // blazer // shorts (insanely comfortable – my new favorites!) // jeans
I've officially found my new favorite pair of jean shorts! It only took all summer. I've tried so many different pairs from so many different retailers and finally landed on these shorts from Revolve. They are a little pricey but I can already tell I will wear these for many summers to come so I consider these an investment! Also a lot of reviewers recommended sizing down but I went with my normal size and they fit perfectly. I would say if your waist is much smaller than your hips/thighs, size down but if you're like me (I'm kind of straight down) then sticking with your regular size should work perfectly.
This linen blazer is also super comfortable and can be dressed up or down.
TUESDAY: Fitted t-shirt dress, sneakers & a jean jacket
t-shirt dress // jean jacket // tote
So I'm pretty sure I haven't shopped at Abercrombie since high school, but I passed it in the mall the other day and saw this jean jacket (I've been on the hunt for a good one as I try to build a capsule wardrobe). I tried it on and was in love! I found a ton of other things there that I actually really liked (and were all on major sale!) so I snagged them.
I love this t-shirt dress because it's fitted so it gives you some shape. I don't like the t-shirt dresses that feel like you're just wearing a bag. Even better this one is totally affordable!
WEDNESDAY: lightweight tee or tank, sweater & jeans or jean shorts with sandals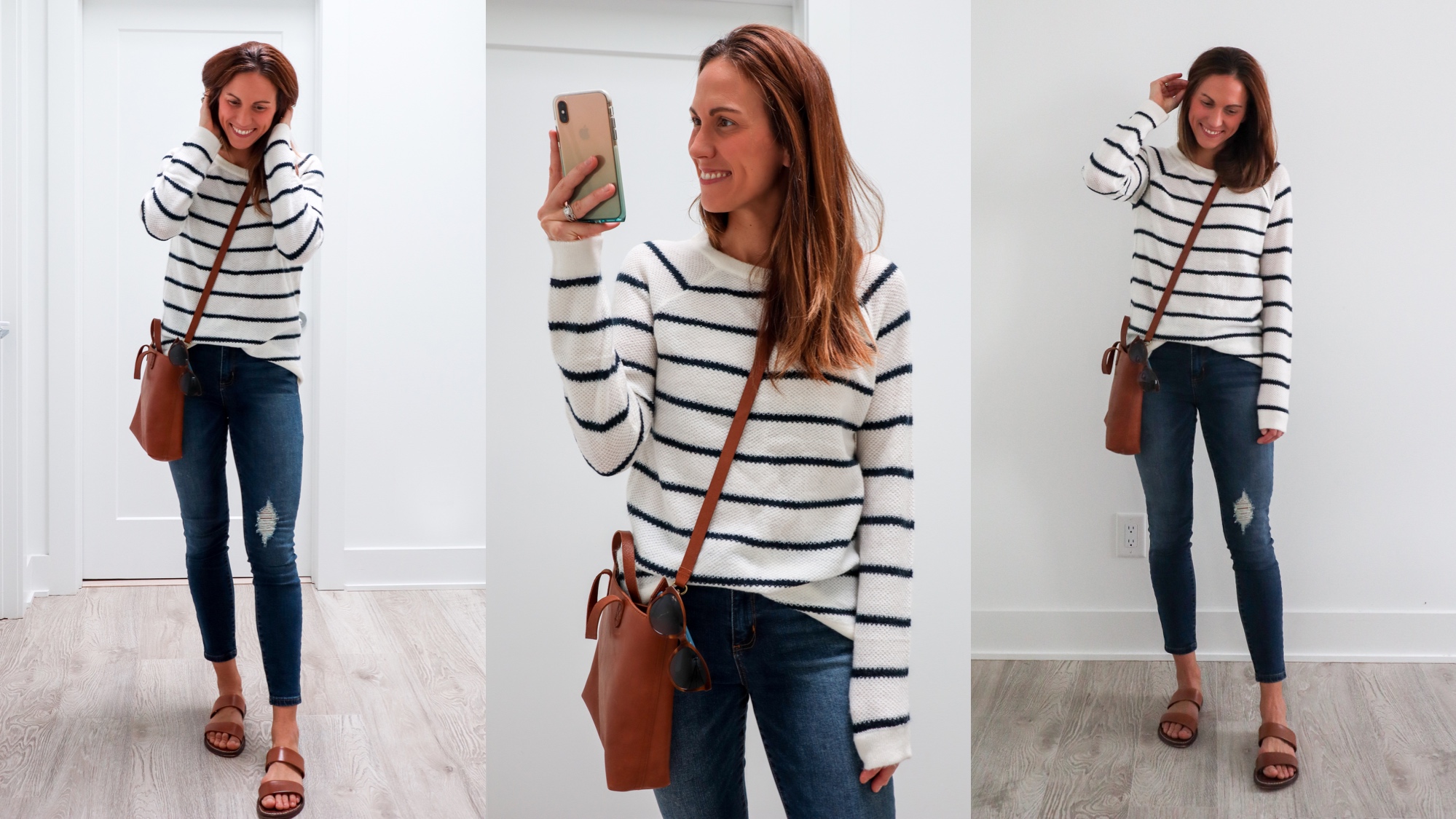 sweater // jeans // sandals // tote
Too early for this outfit? Haha. Can you tell I'm excited for sweater weather? This is definitely too warm for outdoors in the summer but would work great to throw on in a cold office! Just wear it with a tee or tank underneath! This sweater is so soft and comfortable, I couldn't resist sharing it!
THURSDAY: lightweight sweater, jean shorts & sneakers
Told you I was excited for sweater weather – hah! But for real, this one is lightweight and much more weather appropriate. It's great with shorts for the cooler mornings and nights that are coming! Plus it's currently on sale!
FRIDAY: lightweight sweater, shorts & sneakers (part 2)
Told you these shorts were going to be an investment! They literally go with everything. This sweater is super soft, comfortable and lightweight enough to work for end of summer into Fall.
SATURDAY: tank, shorts, poplin shirt & sneakers
This shirt has a little stretch to it which I love – it still looks fitted (aka – work appropriate) but is actually comfortable. And I'm obsessed with these tank tops because they're on the longer side, which is great for someone as tall as me!
SUNDAY: sweatshirt, tank top & jeans with sneakers
sweatshirt // shorts // tote
This sweatshirt is super soft and really comfortable. I love the pattern & the neutral colors!
2