1. You all know my obsession with Cville Cluster Granola, right?  Well, the most exciting thing ever to happen since bagged granola is here!  For all of those that have asked where and how to get it…here's your answer!  Kath and Matt are now officially selling it online.  Go buy it now and have your lives changed forever!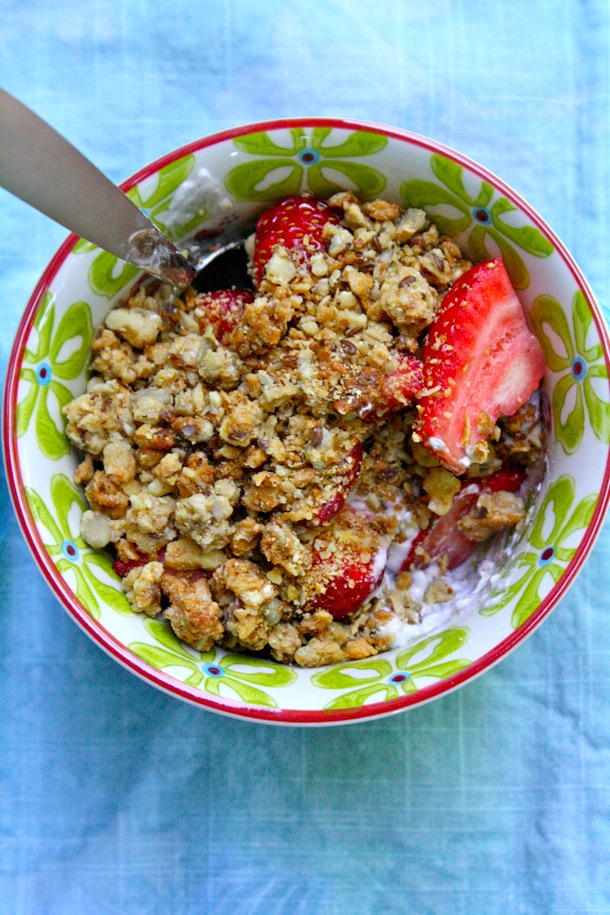 2. I've been absolutely obsessed with cookies lately.  Specially chocolate chip.  With nuts.  I tried to make these the other day and they did not turn out like hers at all.  I'm going to go ahead an blame the pan that I used rather than my baking skills 🙂  If you see an unreasonable amount of cookies show up on the blog in the coming weeks…I'm sorry.  But not that sorry.
3. Speaking of amazing granola, I was privileged enough to try Nuts About Granola's first ever box mix – granola that you can bake right at home!  All you have to do is add your sweetener of choice. The smell of this stuff alone will make you weak in the knees.
4. I loved Real Simple's "The 30 Healthiest Foods" list and was happy to see that I include a number of them in my diet but quickly got distracted by their Snack Finder quiz.  I'm a sucker for a fun game…especially one that results in an entire list of foods that I should eat 🙂
5. I somehow found myself watching Going the Distance on HBOgo (I don't know, don't ask) the other day and was reminded of this video.  Funniest.  Thing.  Ever.  I think I've watched it 15 times in the last 3 minutes.
6. While at Chad's sister's last weekend we went to a Wegman's and I'm now officially obsessed.  It's pretty much like the best place on earth.  I also bought something called "Marathon Bread" which is as good as it sounds.    It made for a killer hummus and veggie sandwich today.
7. I'm officially addicted to both The Wire and Big Love.  Being addicted to 2 shows means I have no life and I couldn't be happier with it.
8. Morning runs are back and I'm giddy with excitement over it.
9. I'm loving my new short hair.  I thought I would immediately miss my long hair, but I don't.  Ask me again in a week.
10. Thanks to some recent sage advice, I'm doing as told and headed to the beach this weekend!
0