rounding up 22 toddler breakfast ideas for all the parents, nannies and babysitters out there!
I get a lot of requests to feature Owen's meals, so I wanted to do a couple of round-up posts featuring different breakfasts, lunches/dinners and snacks to hopefully give you some ideas if you're feeling tapped out.
First, I just want to tell you a little bit about my feeding philosophy:
What I Feed Owen:
I feed Owen the same way I feed myself – I aim to include a mix of whole grains, protein, heart-healthy fats, fruits/veggies each time I put a plate in front of him. I don't measure or weigh anything, I generally let him dictate how much or how little he's going to eat.
My Feeding Philosophy with Owen:
I'm pretty hands off after I put his plate down. I'll let him do his thing without interfering too much. If he tells me he's done and he hasn't touched a single thing, I'll offer him a different type of utensil to eat with (which works probably 50-60% of the time). If he still refuses to eat, I'll offer to feed him a bite. He usually accepts it at this point but if he continues to refuse, I don't push it beyond one attempt. In general his intake varies day to day, meal to meal, depends completely on his mood, teething situation, how tired he is, etc., but I find it all evens out.
Kids are born intuitive eaters – they are the best at simply responding to their internal cues and acting accordingly so I try not to play a huge role beyond providing him the food and a pleasant environment in which to eat it.
Every kid is different and has a different situation – Owen is growing well and is actually a pretty good eater, so we've never had much of an issue. I know not every kid is like that so being hands-off might not work for you and your child(ren) – and that's ok! This is not to tell you that you should do what I do, just to give you insight into how I do things.
With regards to the ideas below – feel free to make them your own! Swap in different dairy options, fruit/veggie options, etc. to suit your toddler's preferences!
So without further ado, here are some ideas!
WHOLE GRAIN BREAD WITH WHIPPED CREAM CHEESE, CINNAMON & STRAWBERRIES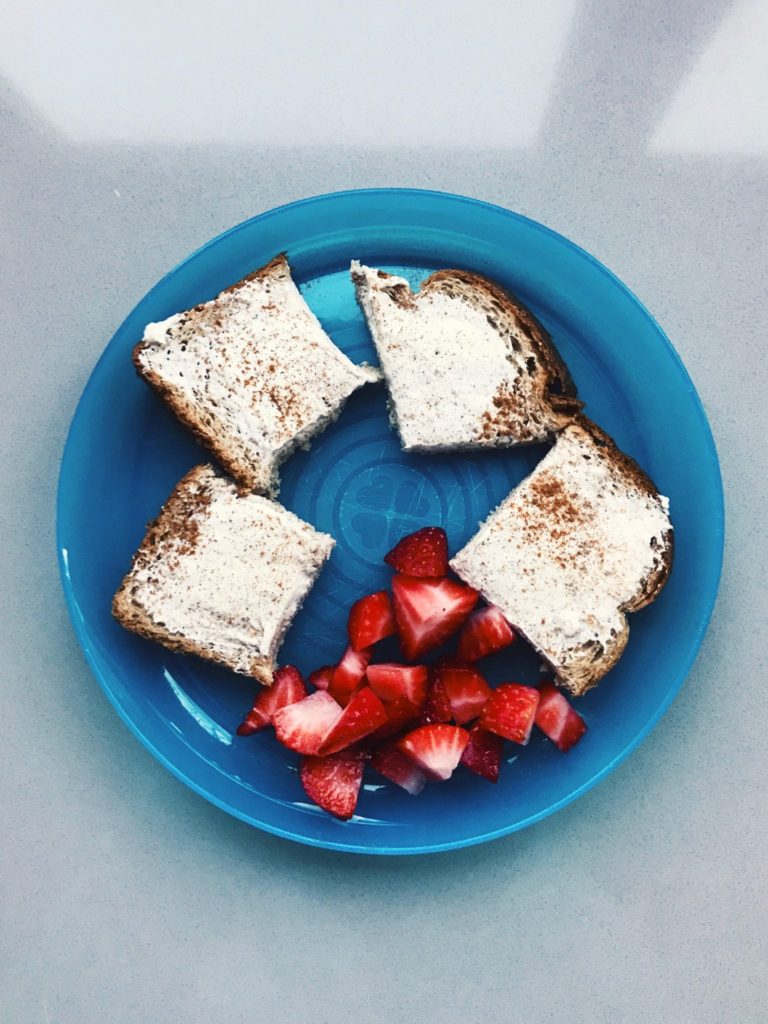 Notes: We like Nature's Own 100% whole wheat bread
CINNAMON BANANA OATMEAL WITH NUT BUTTER (recipe here)
Notes: We love Crazy Richard's unsalted creamy peanut butter, Kirkland Almond Butter and Teddie's creamy unsalted peanut butter
SPINACH & BANANA MUFFIN WITH PEARS AND WHOLE MILK GREEK OR SKYR YOGURT (banana muffin recipe here)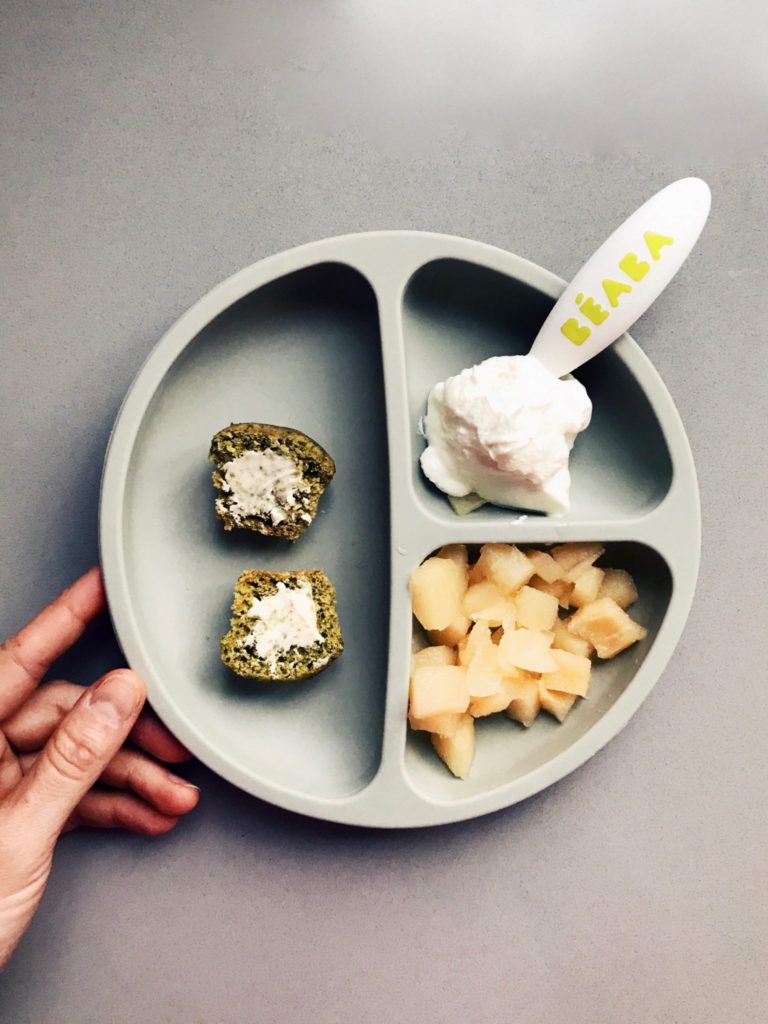 Notes: We love Siggi's 4% whole milk yogurt and I buy him pears that have been packed in 100% juice. I drain & rinse them before serving.
WHOLE GRAIN PEANUT BUTTER PUMPKIN PANCAKES WITH CHEESE & STRAWBERRIES (pancake recipe here)
WHOLE GRAIN AVOCADO & EGG TOAST WITH MANDARIN ORANGES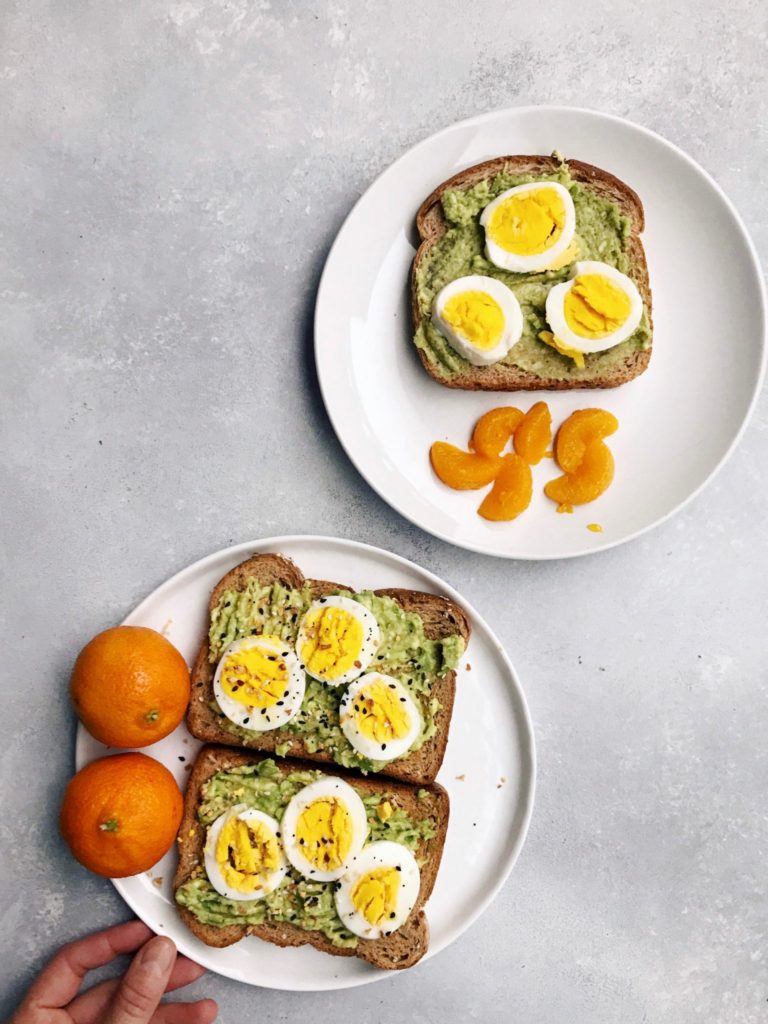 BELVITA BANANA BREAD SOFT BAKED BISCUIT WITH YOGURT & BANANA
Notes: Owen is obsessed with all things belVita. He loves their blueberry bites and the peanut butter sandwich crackers so we'll between those to keep things interesting!
WHOLE GRAIN CEREAL WITH MILK & PEACHES
Notes: Owen's two favorite cereals are Quaker Oatmeal Squares and regular Cheerios. For harder cereals, I'll let them soak in the milk for a bit so it's easier for him to chew.
WHOLE GRAIN BLUEBERRY BANANA PANCAKE RASPBERRIES & YOGURT (pancake recipe here)
Notes: Cottage cheese would also be a great dairy source here!
SUPER GREEN YOGURT SMOOTHIE BOWL (recipe here)
Notes: As you can see it gets pretty messy – feel free to serve it in a cup with a straw!
WHOLE GRAIN PB BANANA FRENCH TOAST ROLLS UPS WITH APPLESAUCE (french toast recipe here)
Notes: You can also just make regular whole grain french toast, cut it into strips and spread it with peanut butter.
PEANUT BUTTER APPLE CHIA SEED OATMEAL (recipe here)
Notes: I make my peanut butter apple chia seed apple recipe as written for the stovetop except for the fact that I peel the apples when Owen is joining in. I also then throw his portion in the food processor and pulse several times to ensure the apples are manageable sizes.
SUGAR-FREE APPLE CARROT BANANA MUFFIN WITH FRUIT & YOGURT (muffin recipe here)
2 WHOLE GRAIN BREAKFAST COOKIES WITH STRAWBERRIES & ALMOND BUTTER (cookie recipe coming soon!)
WHOLE WHEAT TOAST WITH PEANUT BUTTER, CINNAMON & PEACH
Notes: As with the pears, I buy Owen peaches that have been packed in 100% juice. I drain & rinse them before serving.
VEGGIE & CHEESE SCRAMBLED EGG WITH SWEET POTATO & AVOCADO
Notes: This meal works for a lunch/dinner option as well! My favorite easy way to cook sweet potatoes for Owen is to take a fork, pierce all around the washed/dried sweet potato then microwave on HIGH for 3-4 minutes, flip and cook for another 3-4 minutes (until just tender to the touch). Then I sliced it open and dice it up!
GREEN SMOOTHIE YOGURT POPS (I use this recipe and add 1/2 cup of plain, whole milk yogurt then place into popsicle molds and freeze)
Notes: These were especially helpful when Owen is teething!
WHOLE GRAIN WAFFLES WITH NUT BUTTER, RASPBERRIES & YOGURT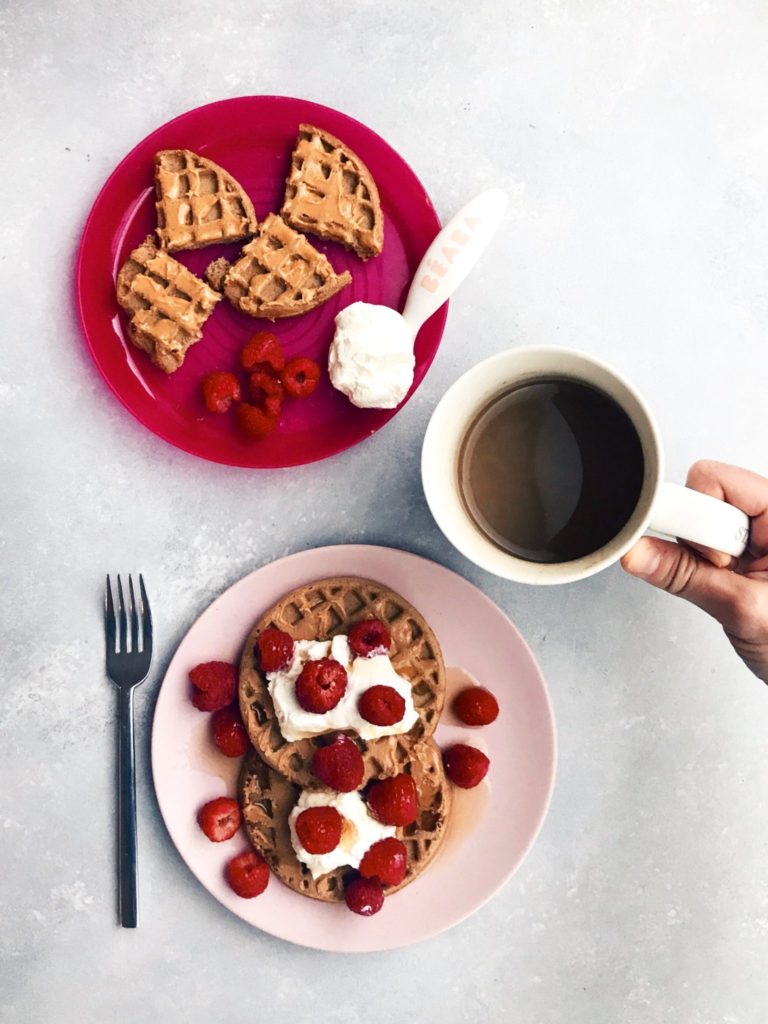 Notes: In terms of frozen waffles/pancakes, we like Van's 8 Whole Grains and WholeFoods 365 Mini Whole Wheat Pancakes
WHOLE GRAIN BREAKFAST COOKIE WITH HARD BOILED EGG WHITE & SWEET POTATO (cookie recipe coming soon!)
Notes: This is another option that would be great for a lunch or dinner. There's no problem serving the whole egg (yolks provide great nutrition!). Owen used to eat the yolks but recently have been going through a jag where he won't which is why I served him just the white here.
MINI BLUEBERRY MUFFIN WITH YOGURT & BANANA
Notes: I do my best to make my own muffins and freeze them but when I don't have the time, Owen loves these Earth's Best Apple Cinnamon Carrot muffins and Apple Blueberry Muffins
CINNAMON BANANA NUT BUTTER TOAST
Notes: My husband eats this for breakfast many mornings and Owen would always beg for it, so one morning we made him his own version and it was a total hit! We mix up the nut butters and the fruit and he loves it!
1/2 WHOLE GRAIN WAFFLE WITH CHEESY SCRAMBLED EGG & BANANA
SPINACH & BANANA MUFFINS WITH NUT BUTTER, YOGURT & BLUEBERRIES (recipe here)
Also, for those that have asked, here are my current favorite feeding products for Owen:
29