rounding up 25 mexican inspired dishes that are easy to make and full of flavor for you to choose from this week.
Mexican Corn Zucchini Noodles with Chili-lime Roasted Chickpeas
this easy dish is light and refreshing and makes perfect use of a can of chickpeas, some seasonings and a zucchini!
Easy Elote (Mexican Street Corn)
this mexican street corn is creamy, delicious and provides a nice kick. as good as one you'd get at a restaurant!
Mexican Cauliflower Rice with Spiced Tofu
cauliflower rice and marinated tofu are loaded with mexican spices for an easy meal bursting with flavor!
Easy Veggie-Packed Mexican Casserole
this meal is not only easy and delicious but it's budget-friendly too! packed with flavor and nutrition, it will definitely become a staple in your household!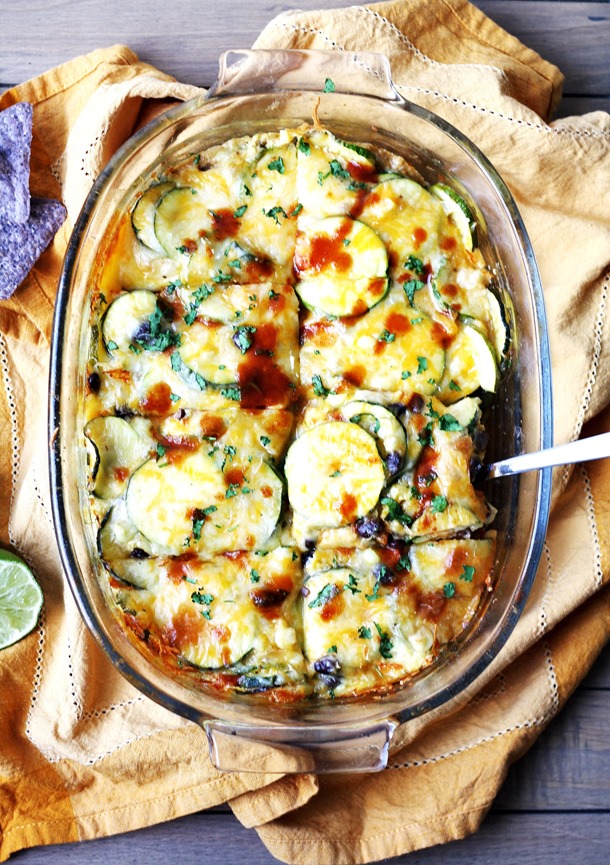 Summer Veggie Mexican Quinoa Bowl
loaded with protein and fiber, this quick quinoa bowl puts a mexican spin on beans & veggies for a dish you'll want to make over and over again.
Spicy Shrimp & Black Bean Quinoa Bowls
juicy shrimp is marinated in chipotle peppers in adobo sauce then paired with roasted sweet potatoes, mexican style black beans, nutty tri-colored quinoa & avocado all finished off with cotija cheese & fresh cilantro for an easy weeknight dish.
Black Bean, Corn & Sweet Potato Quesadillas
these quick and easy quesadillas come together fast and are filled with satisfying flavor.
Small-Batch Black Bean, Corn & Spicy Sweet Potato Enchiladas
these easy, meatless enchiladas come together in a matter of minutes and are made with items you likely have lying around the kitchen! quick & delicious, they're a perfect weeknight dinner.
Spicy Black Bean & Veggie Farro Bake
this easy dish comes together quickly and combines hearty vegetables with black beans for a meatless dish that even the biggest meat lovers will enjoy!
Kid-Friendly: Bean, Veggie & Cheese Quesadilla
this easy quesadilla comes together in just minutes and makes a well-balanced main meal for your little one (or you!). pair it with some avocado and fruit for a fully balanced meal!
Easy Vegetarian Sheet Pan Nachos
these budget-friendly sheet pan nachos are a great way to repurpose leftover filling from my favorite short-batch vegetarian enchiladas!
these breakfast burritos are the perfect sunday brunch meal! filled with fiber and protein, they'll definitely become a go-to in your house!
Cheesy Whole Grain Enchilada Bake
skip the stuffing and rolling with this easy cheesy enchilada bake. it comes together quickly and is as delicious as your favorite batch of enchiladas!
this easy crock pot salsa chicken cooks while you work! throw everything into the slow cooker and by dinner time – it's ready to eat!
Black Bean, Corn & Zucchini Enchiladas
these easy enchiladas bring some of the best summer produce flavors to the forefront. covered in a zippy tomatillo sauce, this is a lighter, brighter, more summer-appropriate version of a classic comfort food dish.
this easy taco skillet dish will quickly become a weeknight favorite of yours! made all in one pan with just a handful of ingredients, it's as delicious as it is simple to pull together and is a total crowd pleaser!
turning one of my favorite mains into a delicious breakfast you can whip up easily any day of the week!
Chicken Tacos with Fajita Veggies
these easy chicken tacos take all of 10 minutes to pull together and include some quickly stir-fried fajita veggies for a delicious #tacotuesday!
this fresh & delicious pico de gallo takes all of 5 minutes to make (and less than that to gobble up!). perfect for all your taco tuesday needs and beyond!
these sheet pan nachos are easy (done in less than 30 minutes!), delicious & dirty just one pan, making them the perfect easy weeknight dish. mix up the flavors in any way to like best to suit your preferences!
Chili-Spiced Tofu Bowl with Pepper Lime Corn & Pineapple Salsa
packed with summer produce and a spicy kick, this is a great meal to prep over the weekend and eat all week long!
Double Bean Corn & Avocado Salad
this easy double bean and corn avocado salad bowl comes together quickly and is a fresh weeknight meal that's perfect for the warmer weather!
this easy sheet pan dinner comes together in under 20 minutes and is a total crowd pleaser!
Ultimate Veggie-Packed Burrito
this easy burrito is loaded with veggies and comes together in just minutes making it a perfect weekday meal!
Sweet Potato Bowls with Cilantro Lime Rice
every bit as delicious as it sounds, it's the perfect blend of fresh greens and hearty spices and it all comes together so wonderfully well.
…and just in case you need it (have two for me if so!)
2