rounding up 30 dinner ideas with 10 ingredients or less to help make your quarantine cooking a little easier!
I think we're all cooking more than usual lately and I don't know about for you, but for me it means the simpler the meal, the better! I hope you can find something you love among these easy 10 ingredient or less mains!
these easy greek-style feta burgers use just 7 ingredients and take all of 15 minutes to pull together bringing amazing mediterranean flavors to any backyard cook-out!
Honey Mustard & Onion Pretzel Encrusted Chicken Tenders
don't let the long name of this recipe fool you! it comes together in just about 25 minutes with less than 10 ingredients making it a perfect weeknight meal that the whole family is sure to love!
this easy tomato basil margherita pizza comes together quickly and is loaded with flavor all while using just a handful of ingredients!
this easy taco skillet dish will quickly become a weeknight favorite of yours! made all in one pan with just a handful of ingredients, it's as delicious as it is simple to pull together and is a total crowd pleaser!
White Bean & Veggie Pesto Pasta
this easy vegetarian white bean & veggie pesto pasta comes together in minutes and is sure to please the whole household – a great option for an easy weeknight meal!
this easy, budget-friendly vegetarian baked ziti comes together quickly and is sure to please a crowd. serve up with a big salad, steamed veggies or some crusty bread to round it all out!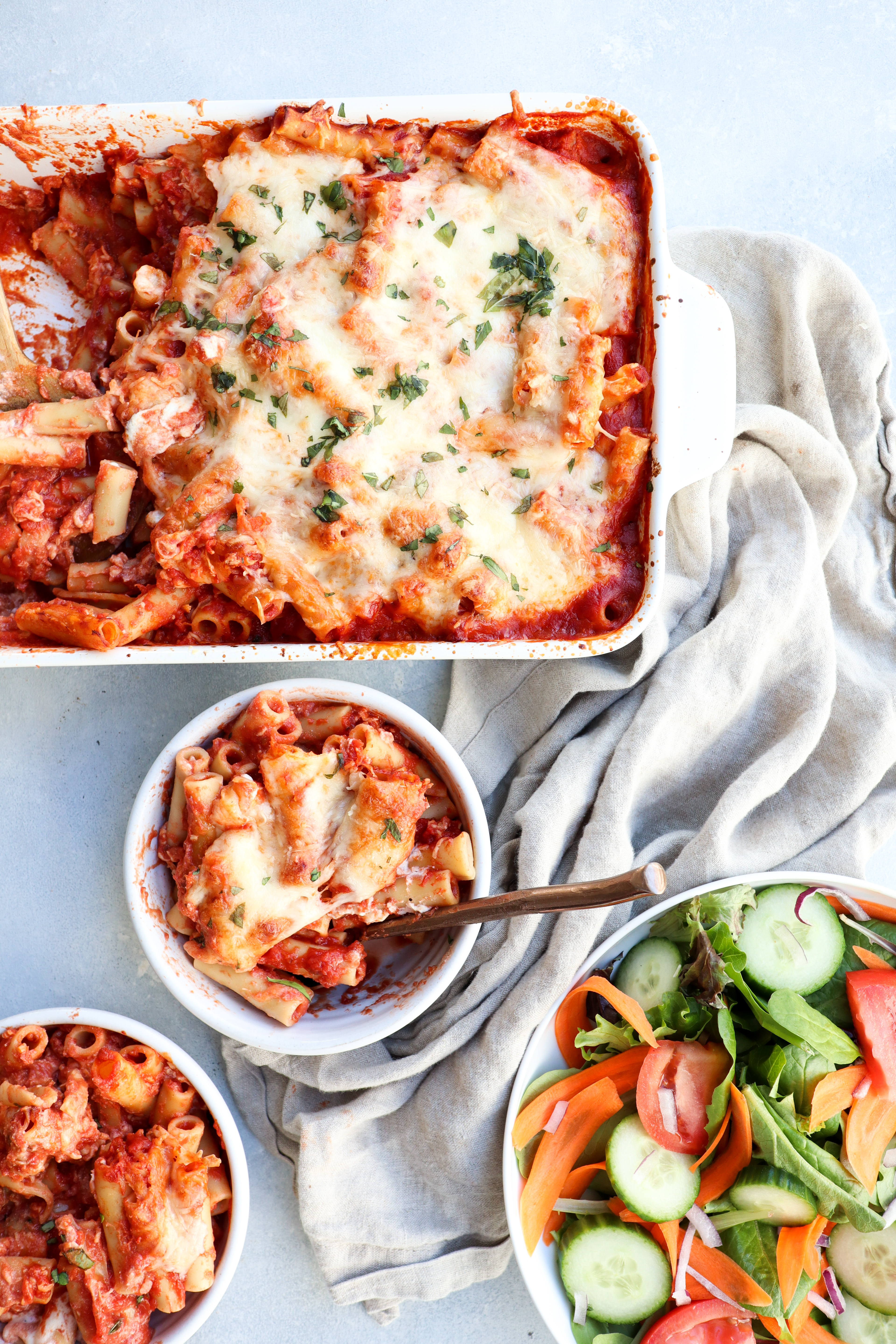 Turkey & Orzo Soup (can easily be made with chicken)
this turkey and orzo soup comes together with just 10 ingredients and 25 minutes of your time. it's quick, easy & filling and a great way to use up your leftover chicken or turkey!
this comforting vegetarian sandwich uses just 5 ingredients. kid & adult-friendly, it comes together quickly and is delicious eaten straight up or paired with soup or salad for a perfect cold weather meal.
these sheet pan nachos are easy (done in less than 30 minutes!), delicious & dirty just one pan, making them the perfect easy weeknight dish. mix up the flavors in any way to like best to suit your preferences!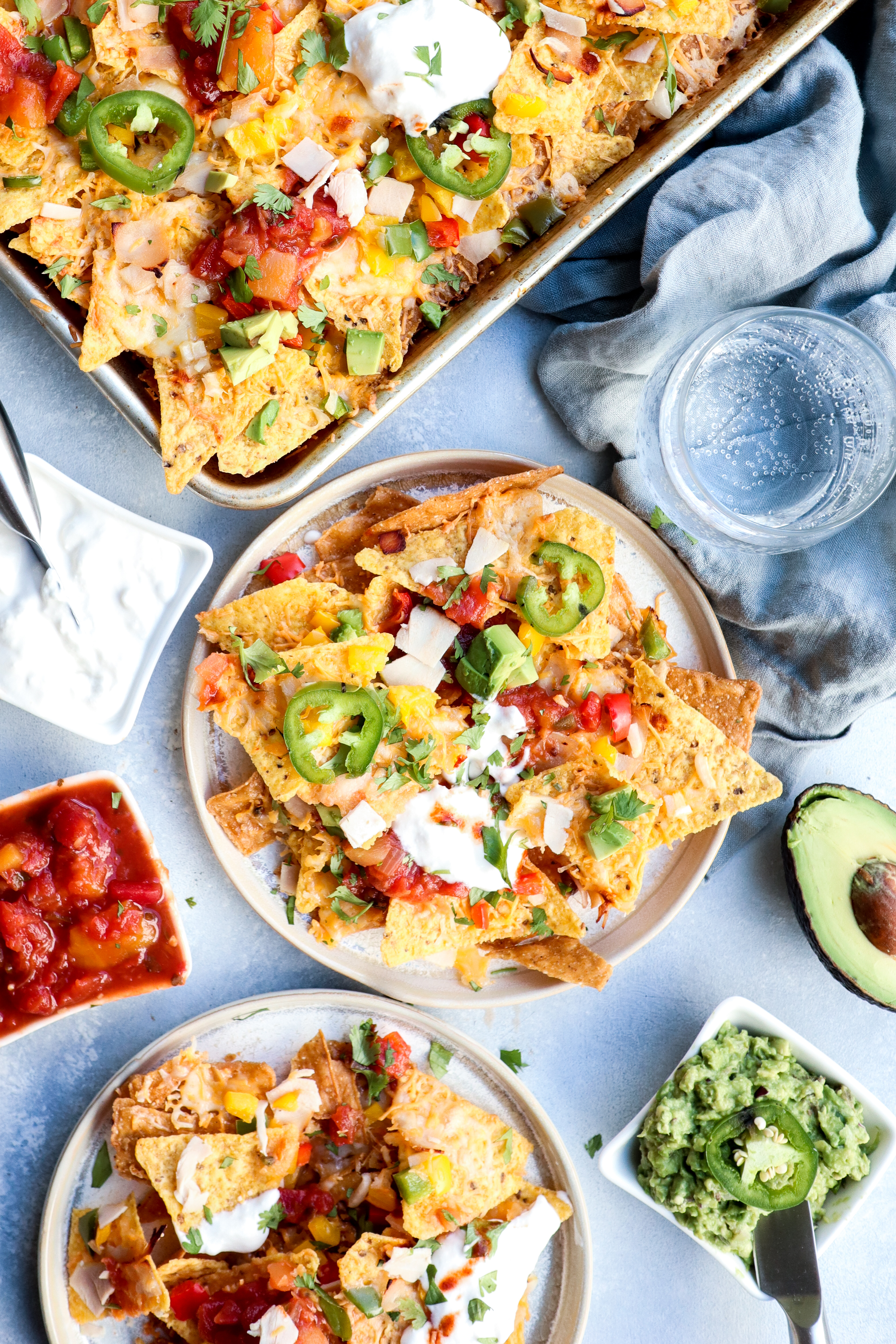 Roasted Broccoli Brussel Sprout Tofu Bowl
this easy grain bowl combines nutty farro, peppery arugula, roasted veggies & tofu all topped with crunchy walnuts and freshly shaved parmesan for an easy meal that's full of flavor.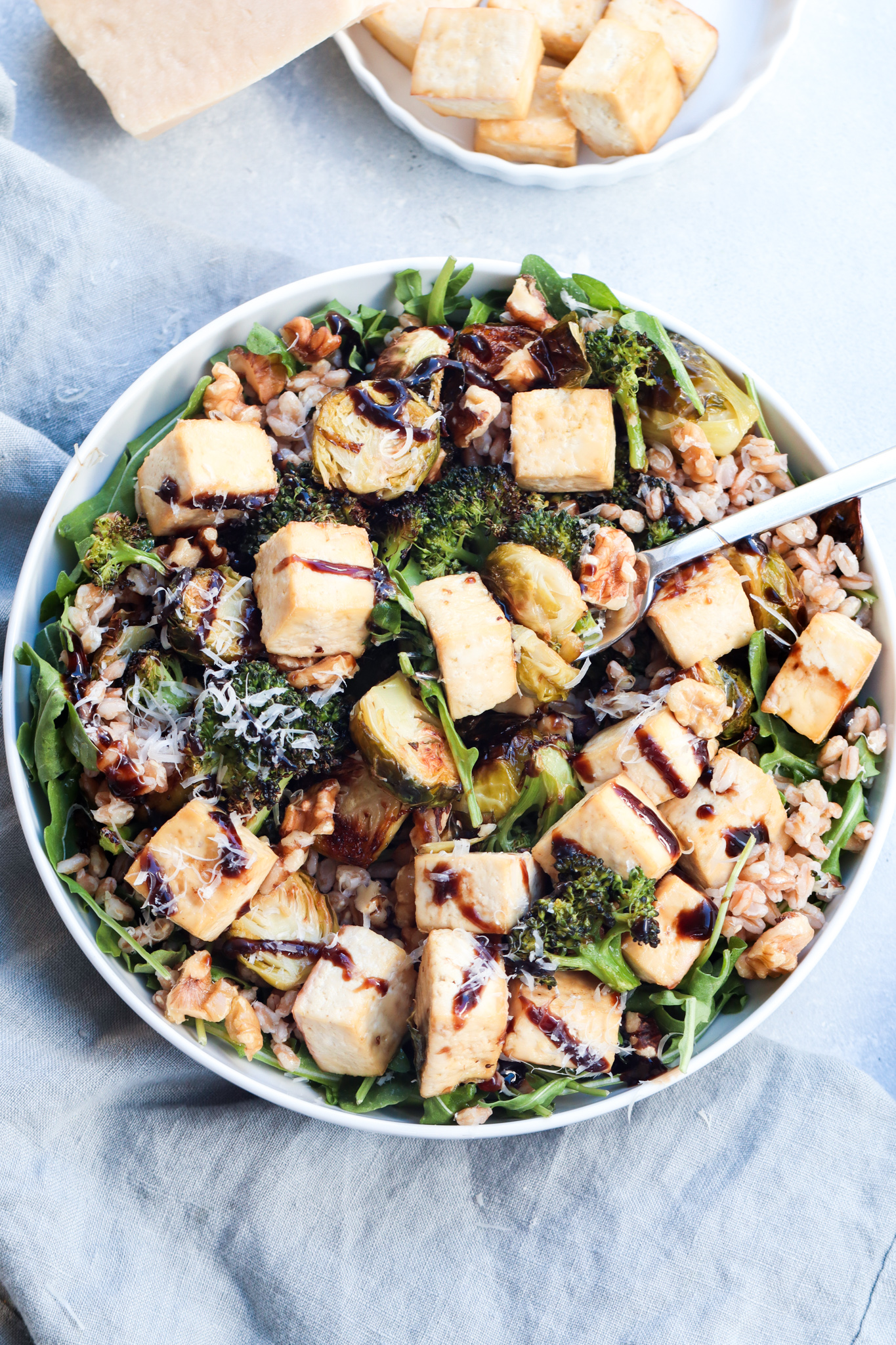 this simple bbq chicken meal cooks all together on one sheet pan and requires just 7 ingredients and 10 minutes of active cooking time making it a perfect easy weeknight meal for the whole family!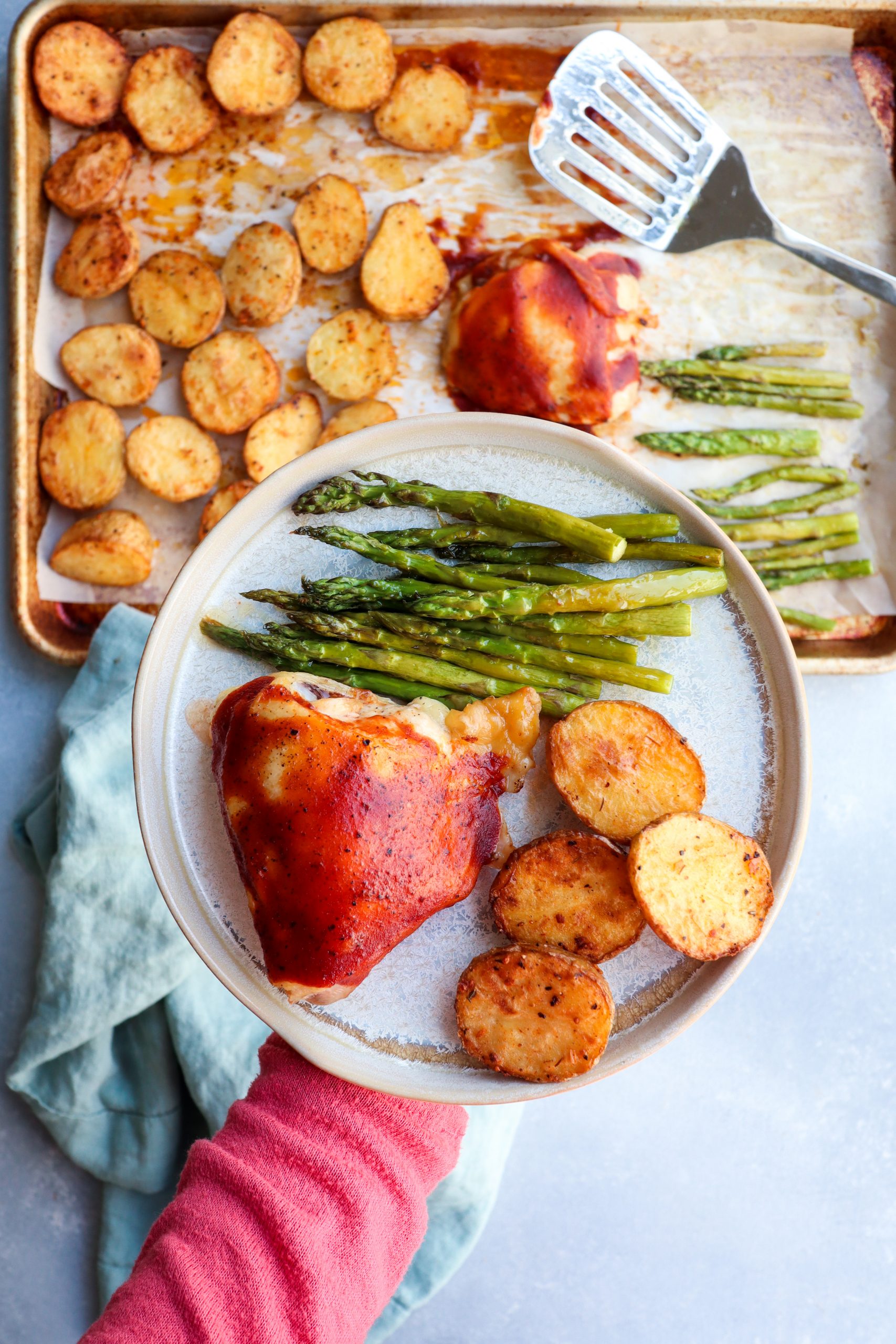 this comforting warm harvest grain bowl combines wild rice with hearty roasted vegetables, chickpeas and creamy feta cheese for a winter bowl you'll come back to time & time again!
Sheet Pan Chicken Sausage & Mixed Veggie Sheet Pan Meal
this easy dinner comes together quickly, is full of flavor and can work with whatever veggies you have on hand! all you need to do is chop, cook and dinner is done!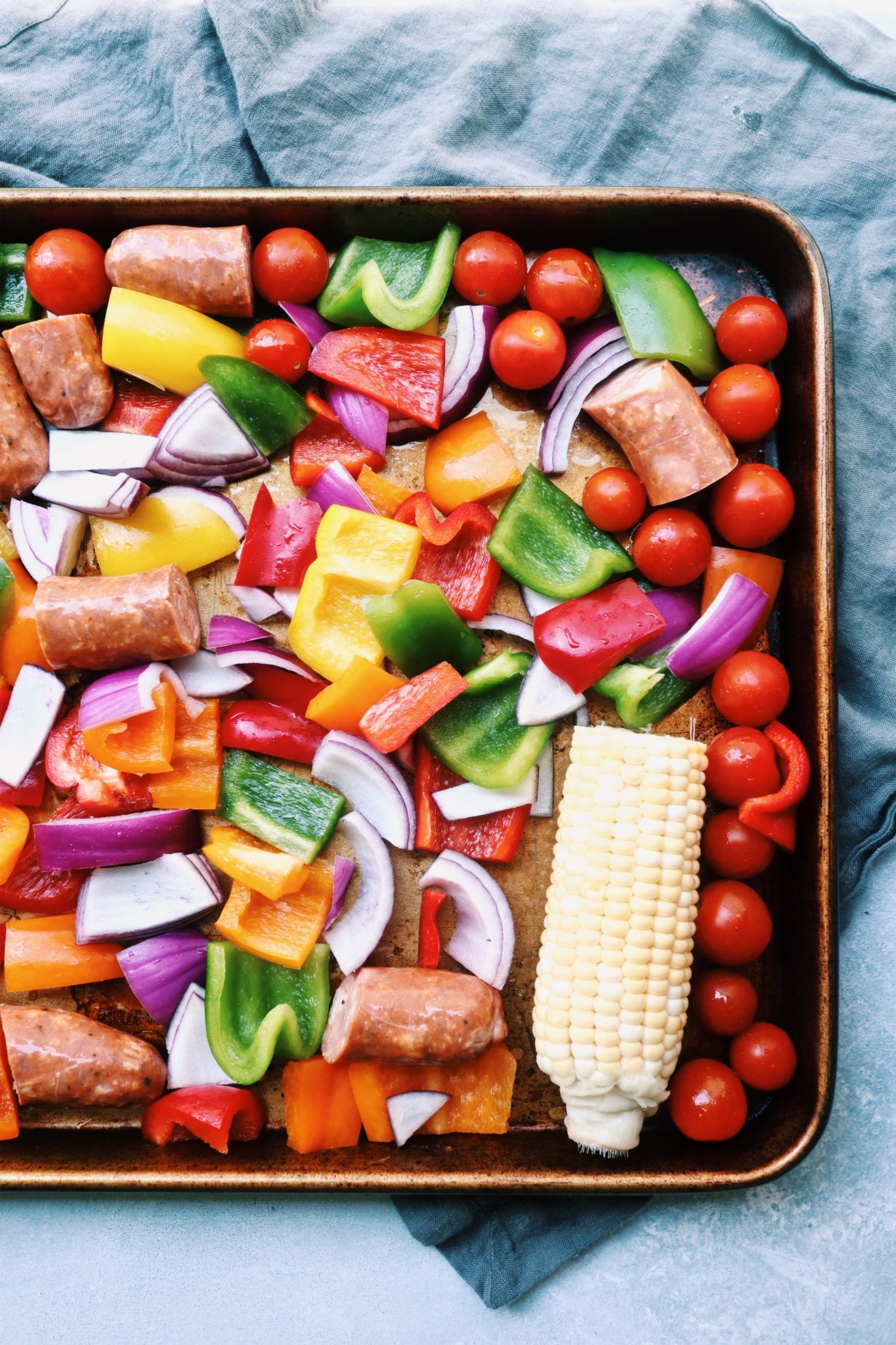 this dish combines crispy skillet gnocchi with the delicious flavors of a caprese salad and even throws a little extra veggies in! perfect on its own or as a delicious side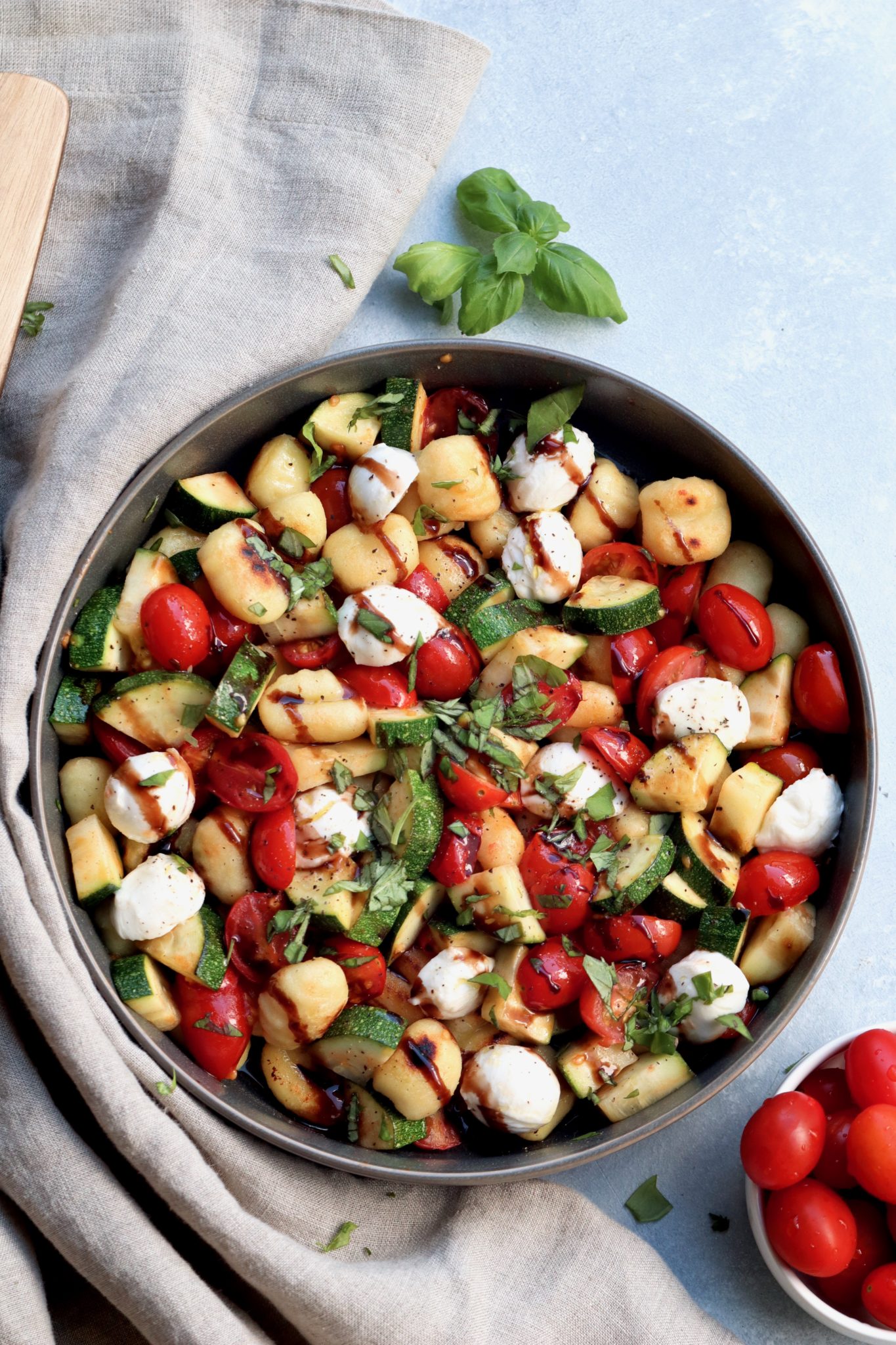 Honey Mustard Pepperjack Chicken
this easy chicken dinner is so delicious and so easy to make. coming together in just about 30 minutes, it's full of flavor and fresh summer flavor perfect for the warmer months ahead!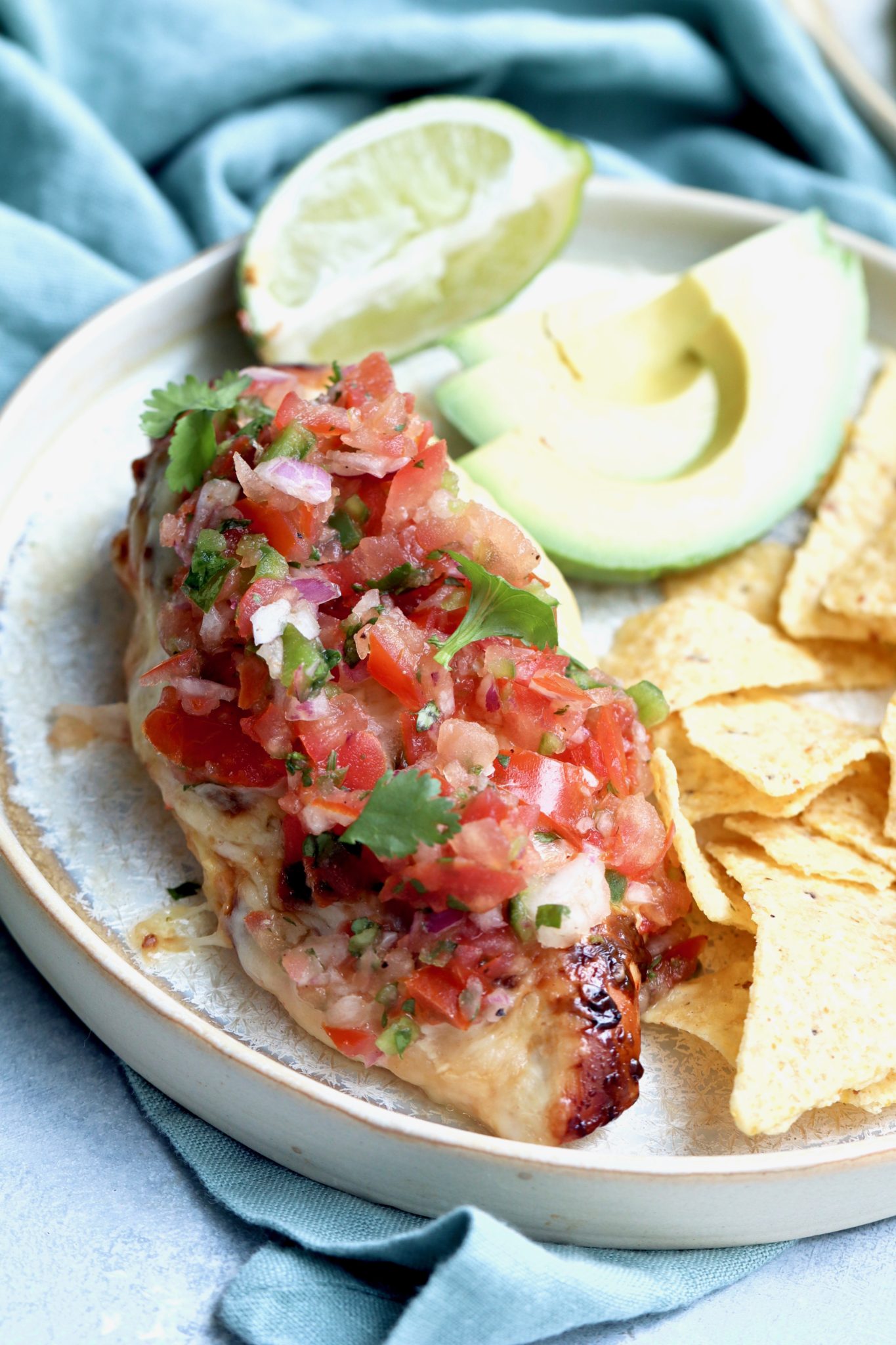 this easy sheet pan dinner comes together in under 20 minutes and is a total crowd pleaser!
these easy chicken taco lettuce cups are a great way to use up ground chicken! serve them up in lettuce or, if you prefer, a soft tortilla!
Zucchini Pasta with White Beans & Blistered Tomatoes
blistered tomatoes top whole wheat and zucchini pasta along with creamy white beans, fresh mozzarella & basil for an easy dinner done in less than 20 minutes that the whole family will love!
Easy Double Bean & Corn Enchiladas
these easy enchiladas are packed with protein & fiber, come together quickly and are also budget-friendly! you'll need just 6 ingredients and 20 minutes to have these on the table!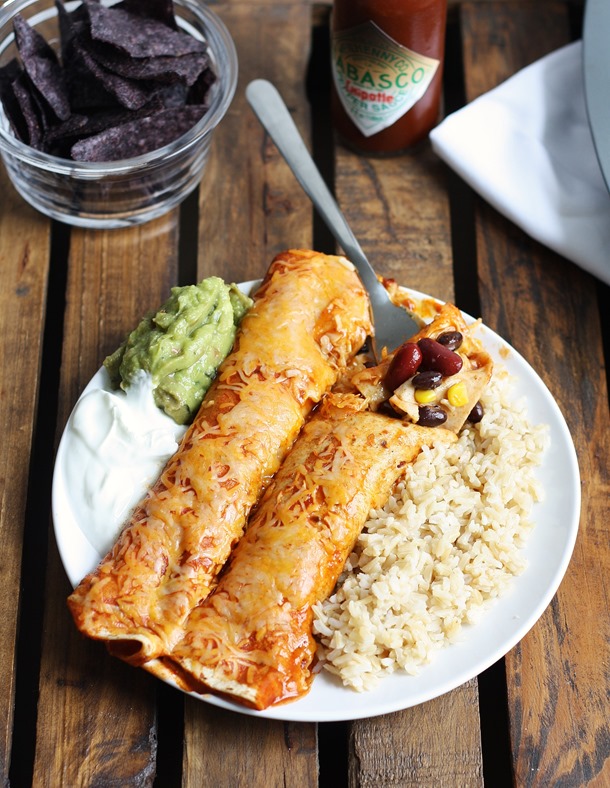 Whole Grain Flatbread Mini Veggie Pizzas
Pesto Pasta with Caprese Chicken Sausage
this easy meal comes together in just about 15 minutes. loaded with protein, fiber and heart-healthy fat, it's a dish you'll want to serve over and over again on busy weeknights!
Mini Turkey Meatloaf Meatballs
these mini turkey meatloaf meatballs make for an easy back-to-school dinner, perfect when served over whole grain spaghetti with your favorite marinara sauce.
this easy pesto barley tofu & veggie bowl comes together in a matter of minutes with just a handful of ingredients. customize it to your liking for a quick weekday meal!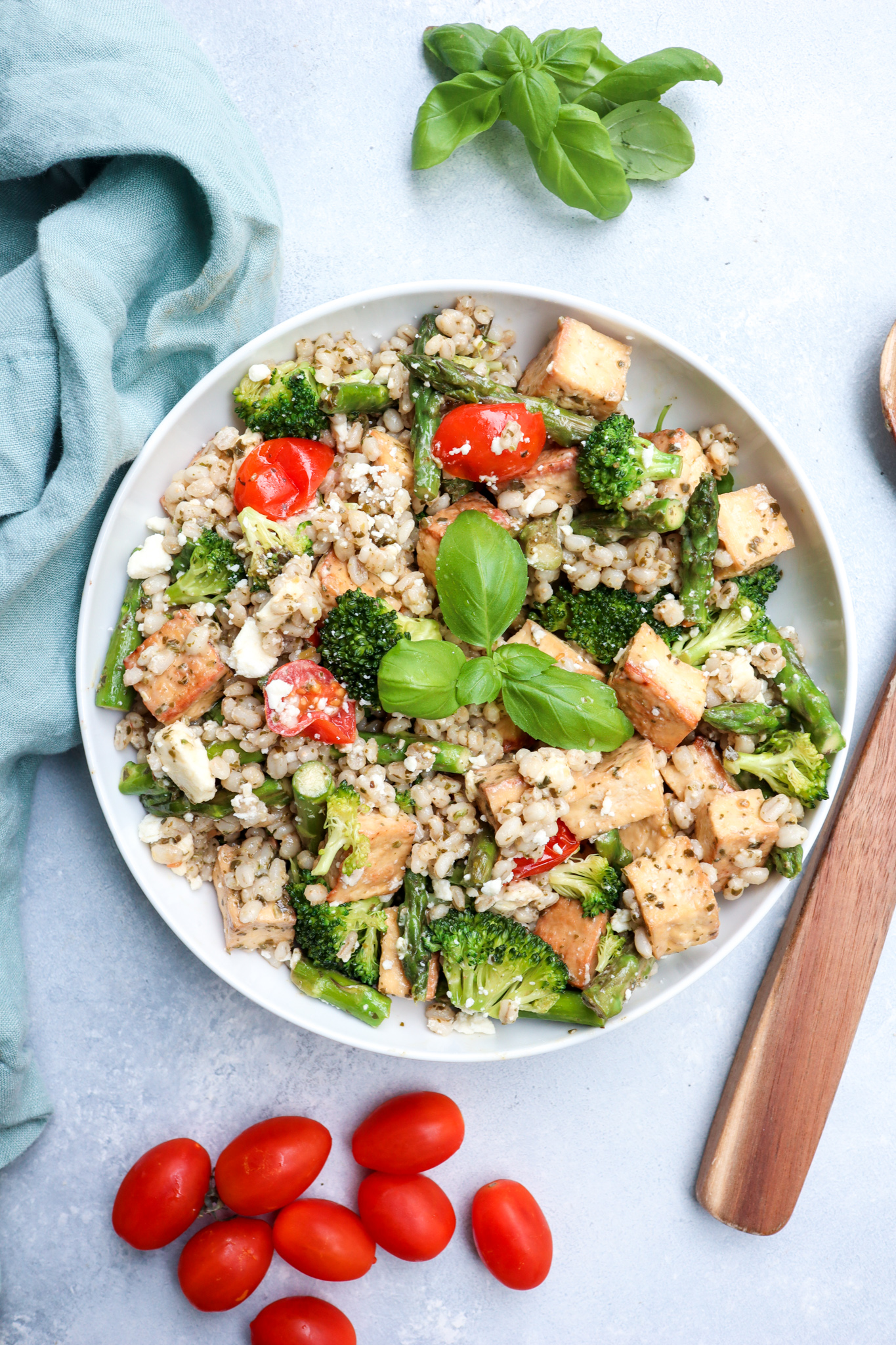 Oven Roasted Salmon with Cranberry Asparagus Feta Farro
this dish comes together so easily you'll be shocked to find how flavorful it is! combining oven roasted salmon that is crispy outside and ultra tender on the inside with fluffy, feta, asparagus & cranberry farro for the perfect weeknight meal.
Pesto Tortellini with Roasted Veggies
this easy dish comes together quickly and is loaded with flavor, heart-healthy fats and fiber making it a perfect weeknight dish!
Zucchini Parmesan Chicken Meatballs
Whole Grain Corn & Zucchini Pizza
corn and zucchini bring springtime to your pizza! this fresh take on the usual pizza is a great dish to usher in spring with! using just 6 ingredients and 15 minutes of your time, it's as easy as it is delicious!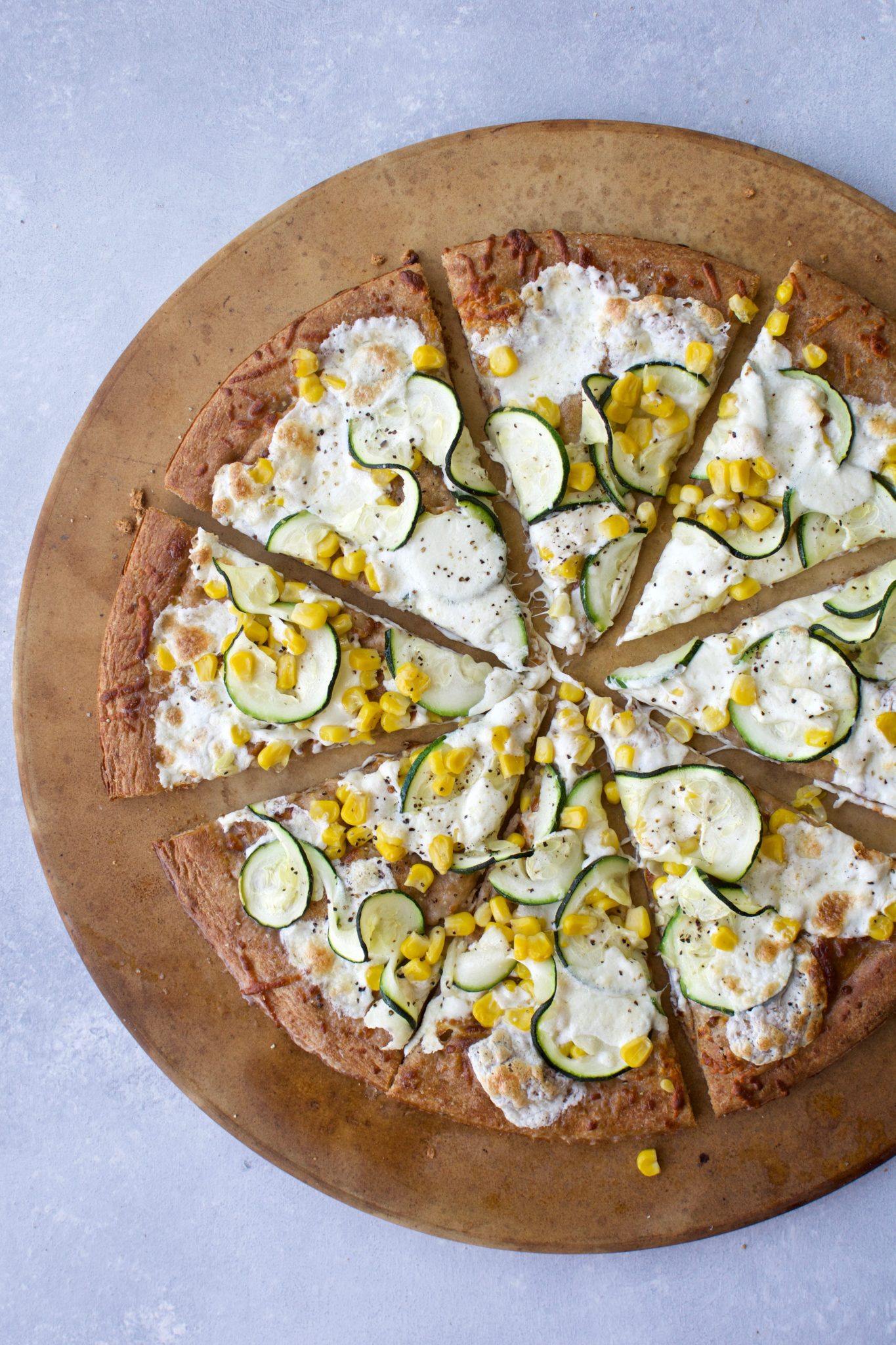 Protein-Packed Summer Farro Salad
loaded with protein and fiber, this easy summer farro salad comes together quickly with a handful of ingredients and is full of flavor!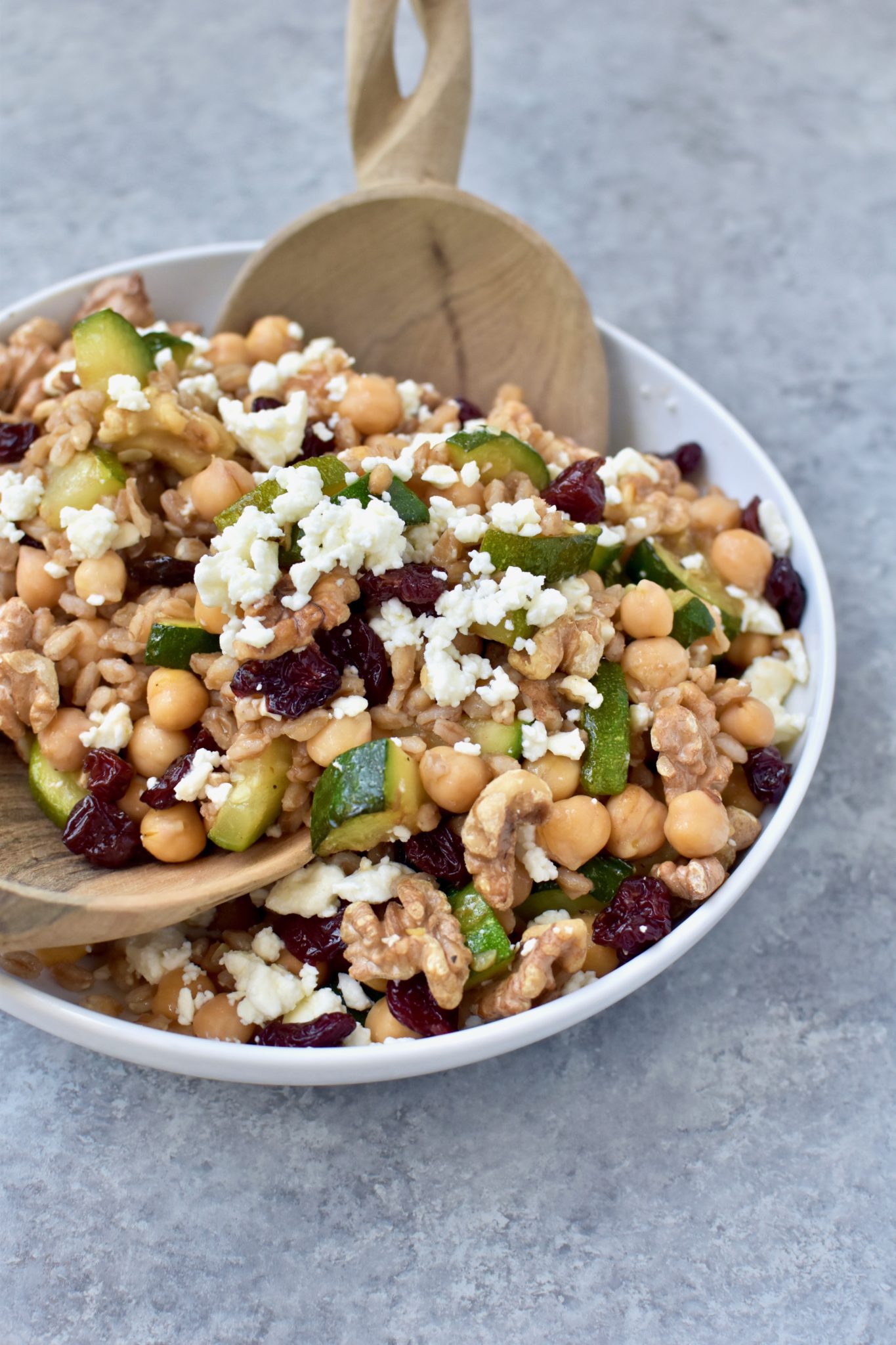 This delicious pasta comes together in just one pot and is loaded with easy summer flavor for a dish the whole family will love!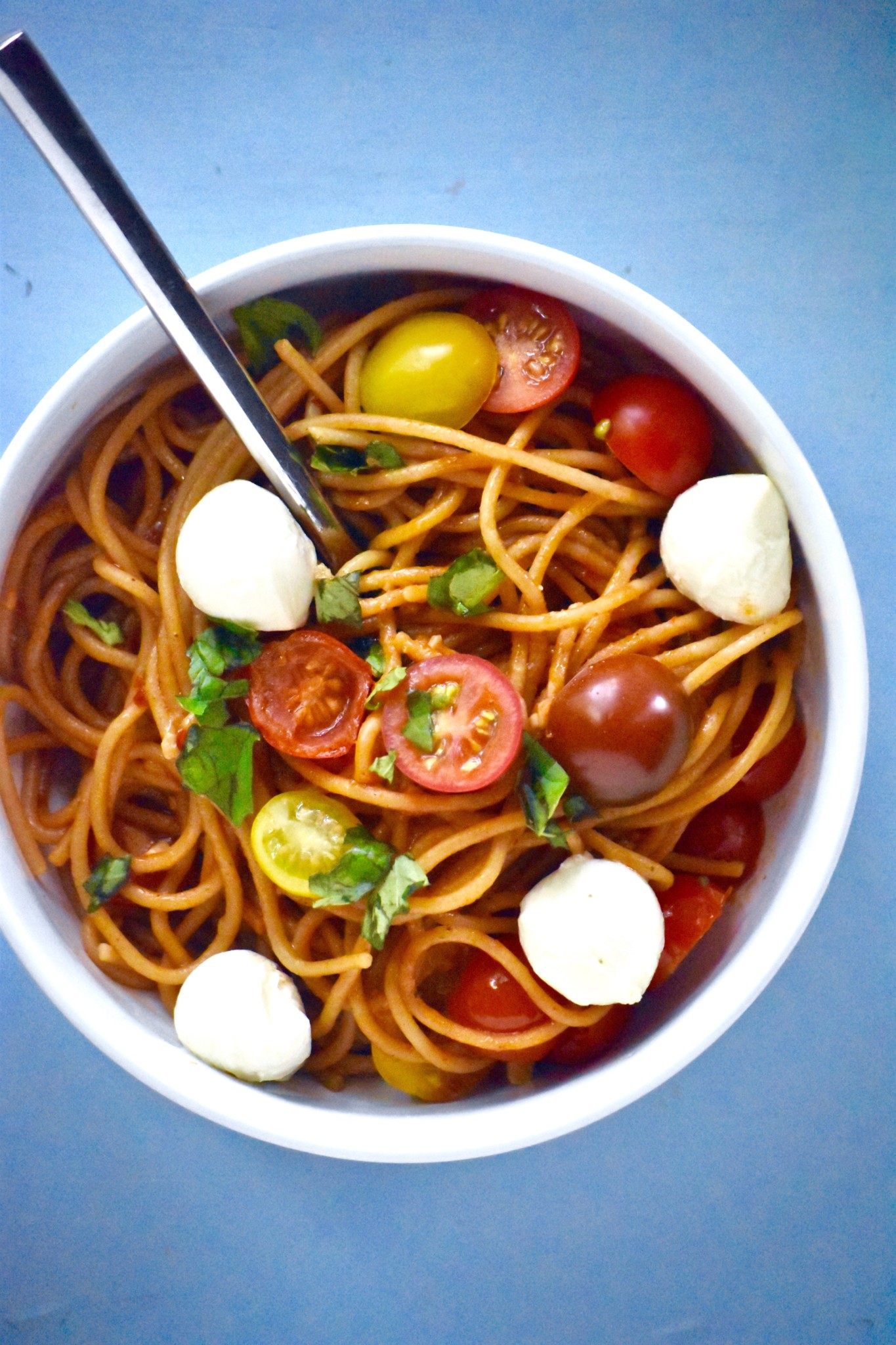 21