featuring over 15 tips (and 30+ recipes!) showcasing easy ways to get more veggies into your day (even if you hate them!). spoiler alert: none of them include eating a salad
One of the requests I get a lot are ways to sneak vegetables into the diet if they're not your favorite thing. I totally get it, veggies aren't for everyone!
If they're not you're not your cup of tea, but you appreciate their benefits and want to try to incorporate them more, then this post is for you! If you love veggies and they're your everything, this post is also for you!
My favorite ways to get more veggies into your life include:
Add them to smoothies – This 4 ingredient green smoothie is great on it's own or a perfect starting point for you to make your own! Mix up the fruits, try different greens and go wild with the toppings of your choice. You can also make it a smoothie bowl like this one – just toss some spinach in and you're on your way! I promise you won't even taste the veggies in it!
Utilize riced veggies – Throwing some riced veggies (think: cauliflower, sweet potato or broccoli) into dishes is a great way to bump up your veggie intake without really noticing it. You can also mix it with actual rice if that helps make it more palatable for you! Try this mexican sweet potato & cauliflower rice with spicy tofu, this pesto quinoa with riced broccoli and chickpea walnut mash or this ultimate veggie-packed burrito.
Wrap them up – I love taking a big salad, chopping it up and throwing it into a wrap. You don't even realize you're eating a salad because it feels so much heartier. Choose your favorite salad and roll it up or try this easy mediterranean chopped salad or my favorite chicken caesar salad wrap
Throw them into baked goods – There's no better way to hide veggies than in baked goods! Talk about being in disguise! I love this whole wheat walnut zucchini bread, this one bowl double chocolate zucchini yogurt bread and these easy whole grain morning glory muffins.
Pack them into tuna salad – My absolute favorite tuna salad recipe is packed with veggies. They're chopped so fine you don't even taste them in there – all you get is their pleasing crunch with each bite (if you're a fan of putting chips into your sandwich, this one is for you!)
Fold them into waffles – These whole grain chocolate chip zucchini waffles and whole grain carrot cake waffles are two of my absolute favorite recipes and they're a great way to sneak veggies in first thing in the morning!
Load up soups and chilis with them – This instant pot veggie chili and pasta e fagioli recipes are loaded with tender veggies but you'd never know it because there are so many other amazing flavors going on! Once you add your toppings and dig in, you won't even remember veggies are in there!
Toss some in with pasta – I find throwing some sautéed veggies in with pasta, a good sauce and some cheese is a great way to get some extra into the day. This spinach pesto tortellini with roasted veggie gets it into the dish two ways!! I also love this roasted brussel sprout & caramelized onion pasta bake. Dice them as fine as you want, the smaller they are, the less you'll even notice them in there!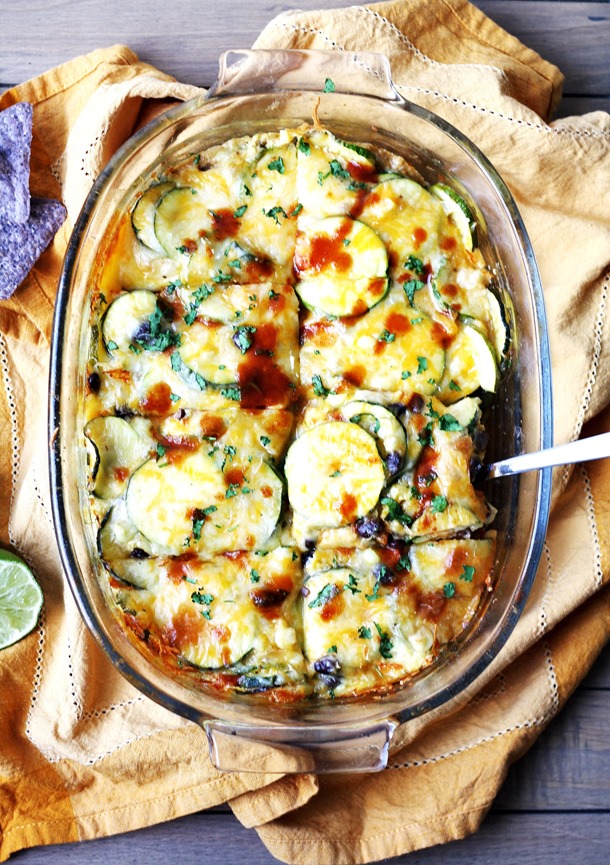 Mix them up with eggs – I know I say this all the time but eggs make a PERFECT vehicle for veggies. Whether you just scramble them quickly (like I did here with this cheesy veggie & egg stuffed sweet potato) or bake them up into a veggie-packed frittata, mexican casserole or pesto egg bake, it's a great way to get veggies into the day!
Toss them into stir-frys – I bet you barely notice the veggies hiding in your fried rice when you order out! Tossing them into stir-frys are an easy way to sneak them in without them being the main component of the dish. Give this spicy chicken & veggie stir-fry a try.
Mix them into oats – This carrot cake overnight oatmeal remains one of my absolute favorite oatmeals I've made (if you're not an overnight oats fan, you can easily make it warm!).
Make noodles out of them – Don't worry if you don't own a spiralizer, most grocery stores sell the noodles pre-spiralized in their produce section, and there are also now a ton of frozen options. One you get your different sauces, you won't even know they're not real noodles! I love these spicy sweet potato noodles with tofu, these mexican corn zucchini noodles with chili lime roasted chickpeas, this spiralized cucumber mediterranean salad and this easy chicken parm with zucchini noodles. You can also mix it half with regular pasta if you want to ease into it!
Toss them into meatballs or burgers – One of the easiest ways I've managed to get veggies into my husband has been dicing them up and tossing them in with his burgers or meatballs! I do this with Owen as well. My zucchini parmesan chicken meatballs are a hit with both of them!
Throw them on top of pizza – Again, another easy way to get picky vegetable eaters to eat veggies because let's be honest…no one turns down pizza! At least not in this house. My easy whole grain flatbread pizzas my california club pizza and my whole grain zucchini corn pizza are favorites around here.
Make sauces & spreads out of them – From pasta sauces to pestos, it's easy to sneak extra veggies into sauces. Try this lemon spinach pesto over pasta!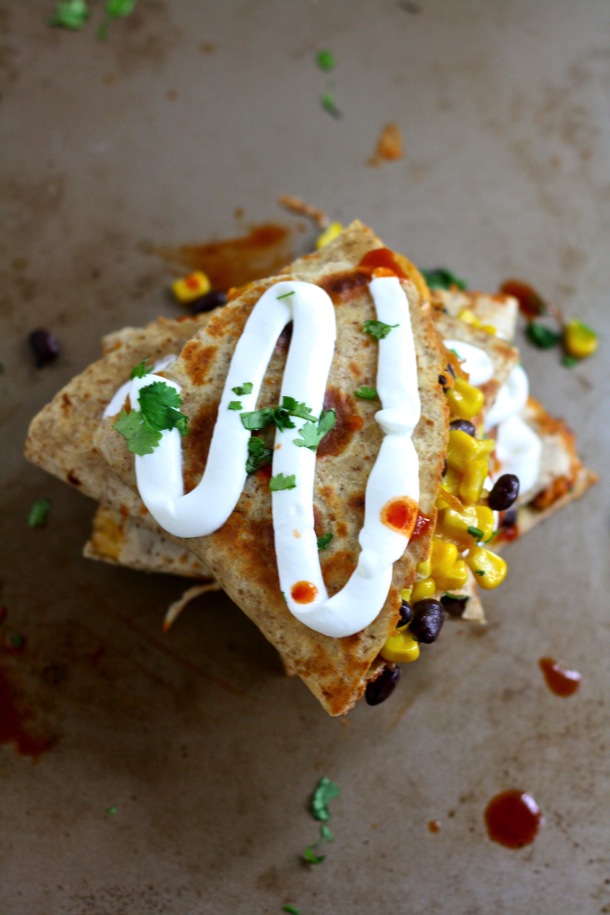 Throw them into quesadillas – Again, who doesn't love a quesadilla? Chop some veggies up super fine and toss them in the next time you make them. I promise you won't even know they're in there once you've got all your toppings going! Try these black bean, corn & sweet potato quesadillas or these lime-infused grilled chicken, spinach & tomato quesadillas.
If you liked this post, stay tuned because next week I'm featuring EVEN MORE ways to sneak some veggies into your day!
5